How to Choose Your Hindu Wedding Venue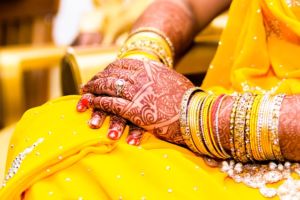 Weddings are special occasions, where friends and families come together in celebration of the union of two people in love. While all weddings are beautiful in their own way, nothing quite tops the glamour that comes with a traditional Indian ceremony. These elaborate affairs are often major productions that last days before the actual vows are held. With an event of this scale, choosing a Hindu wedding venue is a very important decision. Here are some things to consider.
1. Capacity
As we mentioned, traditional Indian weddings are massive, lavish events and most times include crowds of people — friends, family, extended family, and more. So you need to make sure that you find a venue that has the space to hold all of these people. Our 4,860-square-foot ballroom has plenty of space to hold the giant crowd of people eager to witness your nuptials.
2. Catering
You can't have a lavish wedding without massive amounts of food — and we're talking traditional Indian dishes. At PineCrest, we actually specialize in Indian weddings, meaning we've hosted plenty of them before. With our own on-site catering, taking care of making those dishes you know and love is our pleasure. We'll make sure you're eating food that tastes as though your grandmother was in our kitchen helping.
3. location
You can't have pomp and glamour in a mediocre location. Finding a venue that is not only functional, but beautiful, is of the utmost importance. Our impeccably manicured property, set on a stunning golf course, will ensure that your guests are impressed when they arrive, and the photos will reflect the true elegance of the evening.
4. parking
The last thing anybody wants is to be trudging for miles across a seemingly endless parking lot — wearing their finest — just to the get to the front door. While parking is both plentiful and convenient at PineCrest, to make things even easier, we can arrange to have valet service at your ceremony, so your guests need only to drive to our front door. We'll take care of the rest.
5. Budget
Lavish celebrations come with a price, but that doesn't mean they have to break the bank. It's important to find a venue that is willing to work with you and deliver the ceremony of a lifetime while working within your means. We have been planning weddings for a long time, and we know how important this is. We can work with you to make sure you get the wedding of your dreams at a price point you can afford.
Finding a Montgomery County Hindu wedding venue can be tricky, but at PineCrest Country Club, we hope to make it a whole lot easier for you. Contact a special events coordinator to discuss your upcoming wedding ceremony or call us at 215-855-4113 to book a tour today.