Who, What, When, Where of Wedding Rehearsal Dinners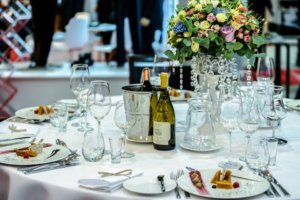 You're getting married! As if that weren't enough to throw your life and your head and your heart into a frenzy, there's still a ton of planning to do and decisions to make. People are going to likely being coming in from out of town to watch you tie the knot, and the bridesmaids and groomsmen work so hard to support you and help you make the most out of your big day. Hosting a rehearsal dinner is a great way to relax and have a good time with your close friends and family right before the big day. Whether you go traditional or put your own spin on things, here are some tips on how to plan a rehearsal dinner.
1. Who's Paying?
Tradition states that the bride's family pays for the wedding, and the groom's family pays for the rehearsal dinner. But tradition lines are blurring every day! Anything goes, really. Both sets of parents may want to share the costs of both, one may claim the wedding, and one the dinner, or maybe you and your partner are taking on the financial responsibility. It's definitely a good idea to first make sure to settle on who is hosting this particular event, so that budgets can be set and plans can be made.
2. Casual, Formal, or Something In Between?
Casual is certainly the trend these days, but it really depends on what you and your crowd are into. Season might also dictate the type of pre-wedding celebration you have. The rehearsal dinner often serves as a way for the people in the wedding, as well as the out-of-town guests to mingle and loosen up before the big event. That can be done with fancy cocktails in the evening, or with Bocce ball and beers in the middle of the day. Once you've decided the tone of the event, that will help you pick a location.
3. Venue and Menu
Did you and your betrothed meet at a park or at barbecue? Maybe your first date was a bowling alley or a microbrewery. Consider bringing your story into the venue and the menu as a way to personalize the rehearsal dinner and treat guests to a piece of your history together. Restaurants are a great choice as far as planning goes, because the staff can handle a lot of the details, such as ambience cocktails, music, and the menu. But if you and yours first bonded at a clambake or a ballpark, a restaurant may not be a good fit. Was your first date at the state fair? Serve beers, and street food and set up yard games! Was the proposal at the dog park? Encourage people to bring their dogs (if you have access to a fenced-in outdoor yard). You can get super creative without having to break your bank.
4. Timing is Everything
When considering how to plan a rehearsal dinner, don't get stuck on the word "dinner." It certainly doesn't have to be at dinner-time! While traditionally, the rehearsal itself is held the night before the wedding, and the dinner happens immediately afterward. However, it's really about what makes the most sense for you, your attendants, and the other guests. Maybe you want the rehearsal and dinner to be two days before the wedding, followed by brunch the next morning and a relaxing afternoon sipping mimosas. Or perhaps immediately following an afternoon run-through of the wedding, you all head to the local bowling alley for drinks, pizzas, and a few frames.
5. Who's Invited?
When wondering how to plan a rehearsal dinner, some time definitely needs to be given to figuring out who should attend. Your attendants, for sure, and parents, generally make the guest list. People who come from out of town are generally invited, but honestly it's up to you. If you're worried about money, but really want a bunch of people there, consider just serving cocktails, or just doing desserts instead of full meals.
6. Special Moments
If you have gifts for the wedding party, the rehearsal dinner is the perfect time to present them. Even a little token as a thank you for their help and support is much appreciated. Gifts for parents is also traditional, but all that is up to you. It's also a fun, poignant idea to do a few speeches. Consider whether you want to ask certain people to say a few words or a toast, or whether you want to open the floor to anyone who feels inspired. If there is going to be a mic, another great idea is to use the time while you have people's attention to remind them of times or make announcements about the wedding day agenda, such as transportation, parking, items to bring, etc.
Of course, what matters the most is that you have a wonderful time, and that your guests feel at ease and welcome. There's no right or wrong way to do this, so don't fret if you don't know how to plan a rehearsal dinner. Just follow these steps, recruit a little help, and you'll be well on your way to putting together the perfect pre-wedding celebration.
Call PineCrest at 215-855-4113 or contact us online to schedule a tour of The PineCrest Room or The Deck. Ask us about our exceptional sit-down dinner and buffet-style rehearsal dinner packages!