Lighting Ideas for Outdoor Weddings
Planning your wedding for the outdoors ensures a beautiful ceremony with tons of natural elements to enhance your nupti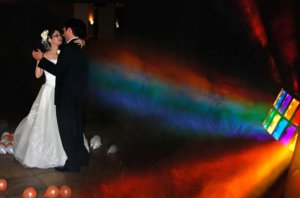 als. Creating lighting effects for the evening may seem overwhelming, but plenty of outdoor wedding venues near Bucks County, PA, will work with you to keep the following factors in mind for the planning process so you can free yourself from the stress of worrying about the scenery. Lighting is, after all, all about directing focus, and you're the main event!
Emphasize focal areas
Since lighting is often a form of a spotlight, consider all the spaces within your ceremony location that you'd like to be highlighted with light and focus. If you're hoping your wedding guests let loose on the dance floor, place your focus there. If you have custom-themed beverages that you're super excited about, highlight the bar. And of course, your wedding cake is the perfect conversation starter, so it's always a great idea to call attention to the dessert area.
Set the mood
Plenty of outdoor wedding venues near Bucks County, PA, will work with your wishes when it comes to mood lighting. If you're hoping for a classic, romantic feel, your coordinators will ensure they use the proper filters to deliver. If you're looking for energetic and fun so your guests will be talking about your wedding for years, ask your contact for options on colored lighting or even effects. These days, there are all kinds of options, so don't be afraid to inquire!
Talk to your photographer
Ask any photographer, and they'll tell you that lighting is one of the most important features in creating the perfect shot. Especially since you'll be working with the outdoors at night, it's important to have this conversation with your photographer to make sure he or she has everything required so your photos of your wedding day turn out as best as possible. It may even be worth it to organize a conversation with the venue and your photographer so you can be sure that everyone involved is on the same page.
Working with one of the many outdoor wedding venues near Bucks County, PA, will surely make your planning less stressful. Talk to them about the lighting vision you have or ask for their opinions. Whatever you choose, your day will be special to everyone involved!