Most Popular Wedding Months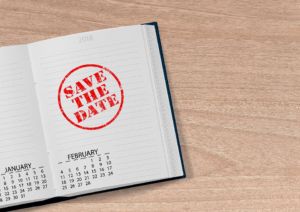 So you've just gotten engaged and now it's time to plan the big day? When it comes to choosing the date for your upcoming nuptials, you may want to consider when the most popular wedding months are. The list includes mostly fair-weather months, which make for picture-picture photo ops and help to assure that guests are comfortable. But it also means that it will be increasingly difficult to book a venue since you'll be going up against other happy couples looking to tie the knot at the same time.
5. August
It may seem a little surprising because temperatures can skyrocket this time of year, but some 10 percent of couples choose this month to host their ceremony. It's traditional vacation season, so that makes it easy for guests who may need to fly in … or if choosing to have a destination wedding.
4. May
This time of year, spring is in full swing and the last remaining dredges of winter are typically well in the past. The rebirth of all things natural — from flower blooms to trees blossoming — puts it in high demand, with about 11 percent of all weddings taking place this month. The temperate weather also makes it the perfect time for an outdoor wedding.
3. June
Similar to August, this when the unofficial start to vacation season kicks off for many, so it's no surprise that 12 percent of weddings occur this time of year. Plus, it helps that the temperatures are just starting to creep up so guests won't have to be all dressed up in their finest during peak summer scorch season.
2. September
Fall is increasingly becoming the go-to option for couples. And why not? September sees about 15 percent of all weddings as the temperatures are delightfully mild and — depending on the location — fall foliage season is kicking off, causing trees to begin exploding into seas of reds, yellows, and oranges, making for some truly memorable photos. Plus, it's still warm enough to host the wedding outdoors without the risk of making anyone uncomfortable.
1. October
Nabbing 16 percent of all wedding bookings, most couples the last few years have opted to brave the somewhat chillier October weather for their nuptials. It's the perfect time for a themed wedding — whether you opt for apples and pumpkins to celebrate the fall, or take it to the next level with a Halloween-themed gathering — so just know, if you want to celebrate now, you'd be best off booking well in advance. Plus, this is typically peak foliage season, making for some stunning photo potential.
Do you prefer one of the most popular wedding months, or would rather go against the grain? (For the record, January is the least popular … and that's no surprise. It's frigid and many are still recovering from all the activity from the just-finished holidays.) One thing to keep in mind is that many wedding halls like PineCrest offer affordable wedding packages for brides and grooms who choose a less popular time of the year to host their wedding. By planning ahead and staying away from the months on this list, you could actually save! Either way, we're sure you'll make it a special day.