There's a Heat Wave for Your Outdoor Wedding – Now What?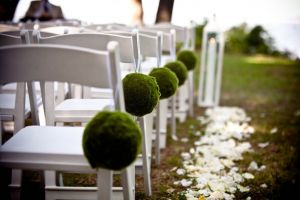 Summertime is a hugely popular season for weddings, and for obvious reasons. The trees, the flowers, the long days and just about everything outdoors is the perfect backdrop for photos. There's less risk for rain than there is in the Springtime, but of course there is an increased risk of excessive heat. You never know what Mother Nature will do on your wedding day, but if you're having nightmares about your outdoor wedding happening during a record-breaking heat wave, it's time to wake up and put those fears to bed instead. Here are a few ideas for keeping the bridal party and the guests cool during a heat wave.
1. take a program… and a beverage
One fun idea is to actually print the program onto card stock fans so that guests can have both while they sit. It can be as fancy or as plain as the occasion calls for, and doesn't give guests an additional thing to have to keep track of or hold onto. After all, it's probably also a good idea to offer them a drink for their other hand. As guests file into the seating area, plan to have a help-yourself beverage station or assign an usher to keep pitchers of lemon or cucumber water ready to fill and refill glasses as soon as they arrive. Consider fruits with high water content, such as watermelon, to help guests stay cool and hydrated.
2. block out the sun
If it's lava-hot outside, it's probably also sunny. Squinting during even a short ceremony isn't just uncomfortable, it can cause a headache that can ruin the rest of the day. Buy sunglasses in bulk that match the color scheme, or if sunglasses are a little too casual for your taste, parasols can also do the trick. A sunglasses or parasol station will make your guests feel cared for and will set a great mood right upfront.
3. place a few heat wave survival kits
We've all heard of the restroom survival kits at weddings, full of lotions, extra stockings, and that sort of thing, but it's just as easy to fill baskets full of face blotters, travel-size sunscreen bottles, and that sort of thing. Consider including hair ties for guests with long hair. A quick updo or man bun is still wedding-chic, right? The men and the women will appreciate these stationed in the restrooms where they can use them discretely yet as often as they'd like. Mini water-mister bottles are another excellent idea. Stash one under each chair with an instruction label, or set up a table afterward during your reception. A little mist of cool water can go a long way!
4. the hot seat
If your outdoor wedding has guests sitting on plastic or metal folding chairs, they could experience an unpleasant surprise. We all remember the metal and plastic slides from our playground days, don't we? Or how about that feeling of peeling ourselves out of a car that has leather upholstery? A simple cushion for each chair will not only increase the comfort level of each guest, but it will help ensure no one sticks to the chair, or worse, gets burned.
It's difficult to think of every possible scenario and be prepared for every little thing that could go wrong. However, having a few plans in place in case of an 80+ degree day is one surefire way to help keep everyone in and at the wedding as comfortable as possible. At Pinecrest Country Club, event planners are available to not only help you with the routine stuff, but also to help you handle anything that could possibly happen during your wedding. With both outdoor and indoor wedding venues to choose from, Pinecrest is a wedding venue chock full of experts who are happy to help you pull off every detail and a beautiful place to make memories that last a lifetime. Call today for details!