Planning a Socially Distanced Wedding at PineCrest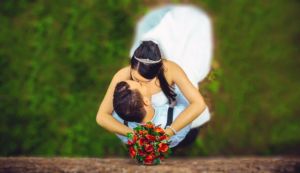 "Social distancing" has become a household term in 2020. Now, it's becoming part of wedding lingo. Planning a social distancing party like a wedding takes some extra legwork but, in many cases, it's the safest and smartest way to celebrate a big day. Most venues aren't hosting parties the size of a typical wedding right now, so couples are faced with the choice of either postponing their nuptials or only inviting a select few people.
1. EMBRACE A BLENDED WEDDING GUEST LIST
We can take a page out of the book of our local schools, couples can have the best of both worlds with a hybrid model. With a blended party model, the happy couple invites those closest to them—perhaps the bridal party, parents, and other close friends or family—to celebrate in person, while the rest of the guest list tunes in from home. We've all gotten used to tools like Zoom for work, social distance meetups, and more, so why should big events like a wedding be any different?
2. OWN THE UNKNOWN
With a blended wedding guest list strategy, couples don't have to go through the impatient wait-and-see process of scheduling and rescheduling their weddings, owing to the unknown nature of the pandemic. A blended party model lets them tie the knot and start their life together, surrounded by all of their loved ones; while it may look a little different, the romance, love, and fun will be just as alive as the couple envisioned.
3. seize the day with a big screen celebration
At PineCrest, we can help bring that vision to life. Our audio and video technology enables us to welcome family and friends from around the world into our space, with a large projection screen that makes guests, and the in-person partiers, feel like they're all celebrating right in the same room. Our rooms can be converted easily to accommodate parties of any size, so the space can feel as intimate or expansive as the couple would like.
The future is uncertain, but your love isn't, so now is the time to celebrate it! With just a few changes and a willingness to be creative, you can go ahead with your plans and make your special day one to remember. Contact our special events coordinators to book your wedding day or call us at 215-855-4113. Let us help you plan your wedding!