Say "Yes" to Two Dresses On Your Wedding Day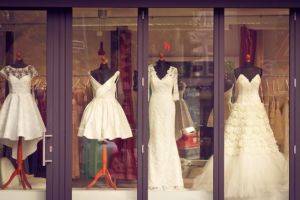 The big day is almost here! The invites are sent, you've gathered your old, new, borrowed, and blue and you have your wedding dress fitted and ready to go—but are you missing something? Many brides are switching things up with the two wedding dresses trend: wearing the traditionally elegant white dress for the wedding ceremony and then changing into a more comfortable but still fashionable choice for the reception.
You may be hesitant to start a search for a second dress for your wedding—since picking out the first was likely a long and, at times, stressful venture! But there are a lot of good reasons why the two wedding dresses trend has caught on—and, because the second dress is often less formal and more fun, finding the perfect fit doesn't have to add any more stress onto your plate.
1. Hit the Dance Floor
Every bride wants to look her best on her wedding day and that often comes at the price of comfort. A tight dress and high heels can make all the dancing and socializing you want to do at your reception a bit challenging, which is where a second dress comes in. Many brides are opting for loose-fitting reception dresses that allow them to hit the dance floor and the dinner table with ease—and to not have to worry about that complicated bustling!—all while helping them express their sense of style. Similarly, if your dress is made of a delicate material—or if you're wearing a family heirloom—you may be hesitant to risk dinner or drink spills in it, but if you opt for the two wedding dresses trend, you can kick back and have fun without all the concern.
2. Cooler Option for the Party
You also need to consider the setting. Most traditional wedding dresses are floor-length and some are made of heavy materials; so if your reception is an outdoor affair in warmer weather, you may want to opt for a lighter, cooler option for the party. Some brides debut their new attire right after the ceremony as they enter the cocktail hour but the timing is all up to you! You can wear your ceremony dress to the cocktail party so guests can grab photos and admire all of its intricacies and then make the switch before your big reception entrance. Or, break out dress number two after dinner and before the dancing starts or even later in the party, such as right before you cut the cake so your arrival in your new attire can alert your guests to gather for the next festivity.
The two wedding dresses trend is newer to the world of weddings—but it's one that is quickly catching on with many brides, who are looking to bring a touch of comfort and convenience to their wedding day. Contact an events coordinator at PineCrest today and book your wedding date! Call us 215-918-8414.