Simple & Unique Winter Wedding Favors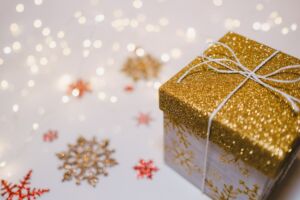 Wedding season doesn't strictly last from spring to early fall. Now more than ever, many couples are choosing to celebrate their special day during the winter. 
If you're among the many couples who are choosing to brighten up the winter months with a heartwarming celebration, you'll need to choose favors that match the mood of the season!    
To help you in your search, our experts have put together a list of fun ideas for your winter wedding favors! 
Snowflake-Shaped Gifts 
The perfect image of winter is a snow-covered landscape with snowflakes gently falling from the sky. 
Capture that wintry feeling with snowflake-shaped wedding favors. 
Not only does this gift idea match the mood of the season, it also opens the door to lots of gift options. 
Go the classic route with personalized silver snowflake ornaments that your guest can add to their tree. Or try something a little different such as a snowflake-shaped bottle opener,  bottle stopper or cocktail accessories. 
Keep things simple with snowflake-shaped handmade decorative soaps.
Whatever you choose, your snowflake-shaped favors will perfectly complement your winter wedding.  
Gifts That Glow
Help your guests set the mood for a relaxing winter's night with a customized candle. 
This option allows you to present your guests with a gift that's practical and personalized. Plus it can be used all year round. 
There are lots of candle options available. You can choose everything from a customized candle to custom gift sets that include a holder. We're partial to this elegant frosted votive with contemporary metal stand set
No matter which style you choose, be sure to include your wedding date and a special message for your guests. 
Functional Favors 
Sometimes the best favors are the ones your guests can enjoy every day no matter the season! 
When filled with their favorite hot chocolate, custom coffee mugs and travel mugs keep your guests warm and comfortable during the winter. Then they can be filled with their favorite coffee or tea blends for the perfect daily pick-me-up! 
When winter's chill runs through their homes, your guests can warm up with a cozy throw blanket. Choose from solid fleeces to decorative throws embroidered with your big day's details. Best of all, these throws can be used during crisp fall days, unseasonably cool spring evenings, and during the summer if someone in their household keeps the AC a little cooler. 
PineCrest Is A Wonderful Winter Wedding Venue 
We hope these ideas have inspired you and sparked your imaginations to create the perfect favors for your upcoming event. 
Now that you have some winter wedding favor ideas, it's time to set your sites on something even more important: finding the perfect venue!   
PineCrest Country Club is one Montgomery County's most popular wedding venues!
Our multiple event spaces easily accommodate winter weddings that range from intimate affairs and substantially-sized events. 
All of our spaces are overseen by an export staff of event coordinators who work with you to ensure that every aspect of your event meets your expectations. 
Contact us today to speak with our experts or to learn more about our winter wedding event spaces.