It Snowed On Your Wedding – Now What?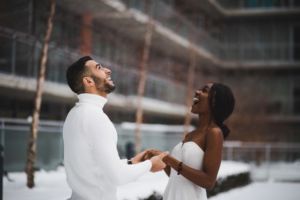 Weather is always a wild card when it comes to making wedding plans. You can try to set your date for when you think the weather is most likely to cooperate. Or you can just leave it up to the fates and hope for the best. When planning a winter wedding, or even a spring wedding actually, snow is absolutely possible. Perhaps the best first lesson of married life is to be flexible, and what better way to practice that mindset than with a bunch of snow on your wedding day! Here are a few ways to help you look on the bright side and not worry about whether there will be snow on your wedding day.
It's a Good Sign!
Did you know that according to superstition, snow is a sign of fertility and prosperity? This sounds like a good luck charm when it comes to snow on your wedding day! Work this idea into your big day by decorating with snowflakes. If you're inviting kids to the wedding, have a snowflake making craft for them at their own table. If massive amounts of actual snow falls on that day, take it as a good sign! Of course, all that is hardly consolation when you suddenly find yourself worried about a snowy parking lot, pictures, and of course your shoes and dress.
Have a backup plan
First thing to do when faced with the possibility of snow is talk to the wedding venue about a backup plan. One of the perks of PineCrest Country Club is that the Veranda is available as a beautiful covered outdoor area that has parking available. The Veranda is a 4,860 square foot ground-level covered terrance that when used creatively can help you work snowfall into your ambiance for parts of your celebration, including photography.
Winter wedding photography
Winter wedding photography is some of the most breath-taking, with the snow-covered scenery. A good photographer can even use the falling snow to create incredible effects. Your photos might even turn out better than you imagined! On the more playful side of things, how much fun would it be to equip you, your spouse-to-be, and your wedding party with shovels and getting some funny shoveling shots? It'll make the unexpected snowfall even more memorable. Get matching sweaters for the bridal party, and get yourself some big white boots and set the mood for a romantic winter wonderland. Let's face it, winter weather itself promotes romance. Turning up the heat indoors or adding logs to a fire, curling up together to stay warm – you can simply let that set the mood and work Cozy Comfort into the theme of the day and night!
Snow on your wedding day can either sound exciting or stressful. Wherever you fall on that spectrum, consider PineCrest Country Club as your winter wedding venue. Check out the indoor options as well as the Veranda to help you prepare for any kind of weather. PineCrest handles this sort of thing all the time, so just communicate your needs and concerns, and they're happy to work with you to work out a plan and make sure everything runs smoothly for your big day. Call PineCrest today to discuss booking options!