5 Socially Distant Photograph Ideas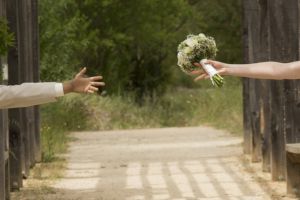 Weddings are going to look a little bit different for the foreseeable future due to COVID-19. But that doesn't mean that you can still feel close with your soon-to-be spouse as well as friends and family. Wedding photo ideas are one thing that brides and grooms need to think about when planning a pandemic wedding. How will everyone remain socially distanced enough to be safe but still within the frame? Luckily, it's not all up to you to figure out! Any excellent wedding photographer has started to make plans for how wedding photos will look for those getting married during these uncertain times. You can work with your photographer to come up with some ideas to make your photos truly special. Here are some ideas to start with:
1. Outdoor Spaces
If you're having your wedding outdoors, then you're already set up for socially distanced wedding photographs. There will be lots of space to spread out so all your family and friends can get in the shot. If you aren't having an outdoor wedding, work with your photographer and wedding venue to search for appropriate outdoor spaces that you can take advantage of for your photos. Whether it's simply a set of nice trees or standing in front of the venue, there will likely be somewhere outside that you can your wedding party can take some shots.
2. Matching Masks
There's no getting around the fact that we're in the middle of a pandemic. Why not try to embrace the madness? A unique wedding photo idea is to get customized matching masks for you and your wedding party. They'll make for some historic photos and keep people a little safer at the same time. We're not saying you have to wear them for every photo, but any group shots you need to take could be masked. It may not be your ideal wedding photo, but it certainly reflects the time in which you got hitched!
3. Get Input
Ask your photographer what they have in mind when it comes to wedding photo ideas during this pandemic. There's no doubt that they've been thinking of ways to capture your day and make it just as special as it always would've been through the lens. Work with them to think up new shot ideas or craft a list of desired shots and send it to them for their input on how they can be done while keeping everyone safe.
We're all living through some strange times right now but the celebrations of life and love must go on! Finding appropriate wedding photo ideas during COVID-19 can happen with just a little help from the professionals!
Contact a wedding event coordinator at PineCrest to learn more about our wedding reception party space and book your wedding date.