5 Tips for a Flawless Fall Wedding Outdoors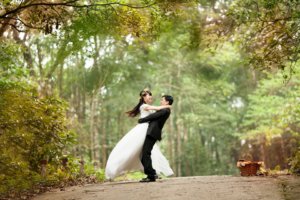 Throwing an outdoor fall wedding offers tremendous natural décor options, including vibrant colors, crisp temperatures, and a cozy, romantic atmosphere. Allow guests to escape the heat from the traditional summer wedding and introduce brilliant fall foliage to celebrate your big day. For a few tips in coordinating outdoor weddings near Bucks County, PA, check out these easy ways to incorporate fall into your big day.
1. Comfort is key
The fall is all about being cozy, so make sure your guests feel that way, too. Depending on the time of the season your wedding day falls in, it might be helpful to consider providing some blankets so they can fully embrace the autumnal love.
2. Natural color scheme
When fall is in full swing, the reds, oranges, and yellows are entrancing, providing you with a natural backdrop for your big day. If your outdoor wedding near Bucks County, PA, proves to be within the perfect fall timing, your photographer will take advantage of the color brilliance, bringing incredible life and vibrancy to your memories.
3. Bring out the rustic
The fall is the perfect time to play with the outdoor bounty. With apples and pumpkins at every turn and hay barrels all around, you can really make your wedding one to remember. When all of these things are within arm's reach, work with your venue to help you use fall as your atmosphere inspiration.
4. Be prepared
One of the risks of organizing a fall wedding outdoors is the slightly unpredictable weather. Depending on what part of fall your ceremony will be, you might have an unusual heat wave or some early onset winter tendencies. By being prepared with any kind of forecast, you won't have to worry about any kind of surprises. Talk with your wedding venue to explore your options, and you can rest easy.
5. Coordinate your fall eats
Skip the wine: serve spiked apple cider instead! Cake? Cut up some apple pie or donuts. Really get your guests talking with a candy apple making station! Get creative with all the fall bounty so your outdoor wedding near Bucks County PA will be remembered for years to come.
Just because the summer is over doesn't mean you can't plan outdoor weddings near Bucks County,PA. The perfect venue will have a backup if mother nature decides to be uncooperative!