Top Rustic Wedding Trends for Fall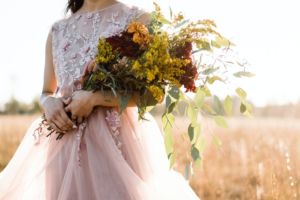 In recent years, many young couples have eschewed the classic traditional ballroom-style wedding in favor of vintage and rustic wedding themes. Instead of champagne flutes and white linen tablecloths, they've opted for mason jars and chambray coverings. Wooden coasters have replaced cocktail napkins while chalkboard signs direct guests to the appropriate reception area. For these couples, a relaxed and cozy atmosphere exceeds the more formal and refined affairs.
As vintage and rustic wedding themes continue to evolve, we've spotlighted the top rustic wedding trends for this fall.
Rustic Wedding Attire
Heels and long trains have their place but not at rustic weddings. Brides are saying goodbye to frills, ruffles, and layers and staying hello to enchanting vintage-inspired creations. From prairie-chic cotton dresses with elegant eyelet embroidery to the vintage-inspired style of crochet dresses to delicate all-over lace designs, these popular choices pair beautifully with rustic wedding settings.
Since traditional black tie tuxedos or white dinner jackets do not evoke images of barns and countrysides, grooms are choosing less formal attire. Light color cotton suits or vests, pattern dress shirts and simple dress pants are the new look for rustic weddings. And since comfort is key, both brides and grooms are saying no to heels and dress shoes and are sporting cowboy boots or sandals instead.
Seating Arrangements
Rather than split a specific number of guests up at smaller round tables, many vintage and rustic wedding receptions are choosing longer rectangular tables to create a more family dinner-style seating arrangement. This more communal-style dining experience allows guests, who may not normally interact with each other, an opportunity to get to know each other and become new friends. The happy couple want everyone to feel welcome, and this arrangement makes that possible.
Rustic Centerpieces
While exotic flowers are all the rage for some, couples who choose a rustic wedding theme want their floral arrangements to match the rest of the evening's laid back, less formal vibe. Sunflowers and wildflowers displayed in burlap-wrapped mason jars perched atop thin pieces of tree log create simple, yet lovely centerpieces for these vintage-inspired receptions.
These are just a few of the many popular rustic wedding theme ideas that are currently trending. If you're planning a vintage-inspired or rustic-style wedding and you're looking for the perfect venue, PineCrest Country Club is a wonderful choice. Offering a scenic view with fields and woods, it's an ideal backdrop that emits countryside feelings. Our indoor and outdoor wedding venues can accommodate both large and small gatherings, and can be decorated and customized to create a relaxed and less formal atmosphere that's perfect for rustic-style weddings and receptions. We offer a wide variety of menu choices created by our culinary experts and served by our talented staff.
Contact us today to speak to an events coordinator about hosting your rustic wedding and reception at PineCrest Country Club.