Unique Color Palettes for Your Fall Wedding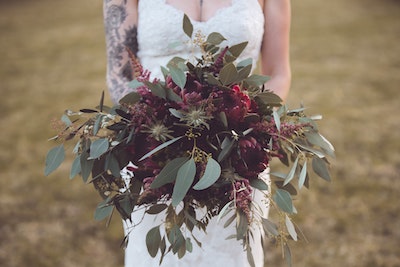 Planning the perfect fall wedding can be tricky business when it comes to choosing the right color palette. Going with colors that are too on the nose or not seasonally appropriate can really cloud the special occasion. Choosing too trendy of color palette may result in outdated styles when the big day arrives.
Thankfully, we have some wonderful color combinations that will inspire your search for the palette of your choice.
Shades of Orange
Perhaps no other color best represents the fall quite like orange. From the falling leaves to the pumpkin patches to glowing sunsets, the color orange illuminates autumn. So it's only fitting that it be considered for fall wedding color palettes. Here are two of our favorite shades of orange and their complementary contrast colors:
Burnt Orange – A subtle yet eye-catching fall color, burnt orange is often overlooked. Why? Many brides are unsure which contrast color best pairs with it. Though not immediately associated with burnt orange, deep blues or greys go great with this shade of orange. Although black and brown may also pair well with burnt orange, we recommend going with softer shades of those colors. If you pick too dark a shade of black or brown, it can be too reminiscent of Halloween.
Pumpkin – Although it may seem too obvious, don't write off pumpkin. This perfectly pleasant fall color will do wonders for your fall wedding color palette. It just needs the right partner. Pairing pumpkin with a more muted shade of green such as sage creates a color palette that perfectly complements fall feelings.
Deep Colors
Looking for deeper shades that are seasonally appropriate? If so, nature's bounty is the best place to look for inspiration. These are our favorite deep color combinations for fall:
Cranberry – One of the more daring colors for a fall and winter, cranberry red's dramatic tones can be softened and supported with a visually pleasing complementary color. Captivate your wedding guests with a cranberry gown or bridesmaids dresses paired with subtle peach, gold or champagne accents. These colors help bring out the warm side of this wonderfully rich color choice.
Plum – This deep shade of purple is another elegant choice for fall. Although its deeper shade may seem intimidating at first, it's easy to see its fall color palette potential when paired with muted shades such as olive, ocean or ecru.
Classics
Sometimes the perfect fall wedding color palette is found among the classic color combinations. These time-honored choices offer brides and bridal parties plenty of appeal, allure and sophisticated style.
Navy – This deeper shade of blue is a versatile foundation for any fall wedding color palette. Create a refined regal look by pairing it with gold or silver. Or, add touches of beige or muted copper to accentuate its rustic qualities.
Black and White – There's nothing quite like the charm of a white gown and black tuxedo. Considered the classic wedding color combination, black and white are the perfect wedding colors for every season.
We hope these color suggestions inspire you to create the perfect palette for your fall wedding. And we hope that you'll consider PineCrest Country Club for your wedding reception location. Our elegant wedding packages offer menus that can be customized to make your wedding the special event you've always dreamed of. Our expert party planners will ensure that your wedding runs smoothly from cocktail hour to seated dinner to dancing. Call us today to discover the many ways we can make your dream wedding a reality!