Unique Wedding Reception Ideas Without Dancing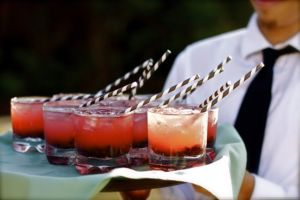 Historically, almost every wedding has some sort of entertainment component. However, did you know that it doesn't have to include dancing? Because of the current pandemic, social distancing is a must and dancing oftentimes doesn't allow for a lot of distance between guests. If you're looking for unique wedding reception ideas that don't include dancing, don't fret! We have a few fun options that will make your special day just as memorable without that killer playlist.
1. Get Competitive
Instead of dancing, why not challenge your guests to a bit of competition. If you're having an outdoor reception, set up lawn games like croquet, bocce, and more. Let guests challenge each other, or even you and your spouse, to a rousing game during what would be the typical "dance" period of the reception. If you're indoors, you could play a game that involves music without the dancing. If you've hired a DJ for ambient music, ask them to lead your guests through a Name that Tune style event and award a prize to the lucky winner!
2. Get Creative
Love and art go hand-in-hand. What better way to remember your special day than by getting creative during your reception. Now, we're not saying break out the finger paints with everyone in their finest. But you could invite an artist to your event to capture the evening on canvas! You could also hire a caricature artist to sketch your guests at a designated sketching booth. They'll then leave you reception with a memory that will last forever!
3. Sip It Up
Instead of throwing the bar open, offer a sit and sip situation where your guests can learn about and enjoy specific spirits. Have a bartender or sommelier guide your guests through a live tasting of your favorite drinks, which you've previously selected. You could do a flight of bourbons, red wine, local brews from your favorite breweries, and much more. Did you meet during a summer abroad? Offer a collection of wines from that region. Was one of your first dates along the Bourbon Trail? Showcase Kentucky's finest and drop some knowledge on your guests. Of course, you can throw the bar wide open afterward as well in case what you're offering isn't a favorite for everyone.
There are lots of unique wedding reception ideas that don't involve dancing and allow your guests to appropriately socially distance. Don't be afraid to think outside the box and offer one of the most memorable nights of your life! Weddings at our wedding venue in Lansdale, PA are set up for success and you can ensure your ceremony and reception will be a little more stress-free. Speak to an events coordinator at 215-855-4113 or contact us online to schedule a tour or book a date!