Wedding Traditions to Skip and to Keep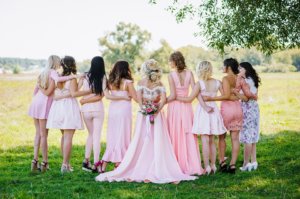 With the evolution of the modern wedding, comes a plethora of choices! Tradition can be fun because it can make you feel connected to all the other family members who wed before you, dating back many, many years. But it can also be a point of stress, as some influential members of the planning committee might expect certain traditions that you're not keen on. Expectations and family customs can be difficult to navigate, but don't forget that this is YOUR day. As you're deciding on a wedding reception venue near Philadelphia, evaluate what's important to you and your betrothed, so you can incorporate the traditions that work for you, and the ones that simply don't.
Here's a little insight into what traditions seem to be standing the test of time, and which ones seem to be on the way out.
1. White Wedding
This is a wedding tradition that is so hardwired into our brains that many of us don't even recognize that there are other options. The color white is a symbol of purity and virginity, and became popular around 1840 as a response to Queen Victoria's lacy wedding gown. Delicate, untouched femininity might absolutely describe you to a tee, but remember that what you choose to wear on your wedding day is up to you entirely. If you feel more comfortable in a classy pantsuit, go for it. If you look perfectly regal in royal purple, be open to that color!
2. Matchy-Matchy
Along a similar line, a perfectly coordinated wedding party is also a tradition more and more people are abandoning. If you love how clean and neat it looks, and your wedding and reception are very formal, keeping this tradition alive is a great way to create a clean, universal look (on the actual day, as well as in pictures). However, if there is a wide range of body types among the bridesmaids and groomsman, everyone might be most comfortable picking out their own clothing style. Many times a common color is selected, but dress style is left up to the attendants themselves. But an increasing number of people are opting for free reign over color AND style, and you know what? At the end of the day, the celebration is about relationships and love, not about clothes.
3. Elaborate Wedding Party Intros
This tradition does not date as far back as Queen Victoria, but in the not-so-distant past, it was fashionable to pend as many as 20 minutes just introducing each member of the wedding party as they enter the reception hall after the wedding. This can certainly be fun and give each person their time to bask in recognition, it can also be incredibly dull and take away from the rest of the party. Some wedding reception venues near Philadelphia lend themselves easily to dramatic entrances, such as stairways or hallways, but some do not. Keep this in mind also, when trying to make this decision.
4. Cake in the Face
If you've been looking forward to smooshing that first piece of wedding cake into your new husband or wife's face since you were a little kid, you may want to hang onto this potentially hilarious custom. However, if you don't even like cake, it doesn't make sense to even have a formal cake cutting moment. We suppose any kind of food can be aggressively smooshed in someone's face, but it's perfectly okay to simply present a table of assorted desserts from which guests can choose. Donuts, cookies, and mousses are showing up in weddings lately, which alters the tradition entirely. Don't like cake, but still want that intimate both-hands-on-the-knife photo op? Have a small cake made up for that purpose, but offer guests a variety of single-serve desserts.
5. Guest Book
You'll definitely want some kind of guest book. Photo guest books are on the rise, however. If instant photos were a thing back in the day, we are certain they'd trump a bunch of boring ole signatures. Polaroids are excellent for this, as are photo booths. Guests can paste their photos into the guest book, and even write a few words of congratulations next to them if they'd like!
6. That First Look
It's bad luck for him or her to see you before the wedding? If you believe that in your heart of hearts, then keep this tradition alive! It can be fun to play keep-away. Before-wedding photos are an intimate and convenient option too, though. Photos themselves can take tons of time, and often leave your guests waiting between the wedding and reception. Bridal portraits and couples portraits, when done ahead of time, allow a variety of backdrops and looks, AND allow you some flexibility when it comes to the weather. Spending this kind of time together before the actual wedding can help make things really exciting. Capturing the "first look" on camera is also something that's gaining some traction.
Traditions are traditions for a reason: they're well liked and can create a connection with your bloodline. Sometimes, even the traditions that seem super silly can actually be great fun, so think about what you want. When choosing a wedding reception venue near Philadelphia, give some thought to what kinds of traditions you might want to keep, and which you want to scrap. You may feel pressured to keep traditions, or you might feel pressured to stray from tradition. The happy couple is what makes the wedding special, and that's the best tradition of all.
Call PineCrest's special events coordinator at 215-855-4113, schedule a tour, and envision yourself and your loved ones in our wedding reception venue near Philadelphia!