Options for Wedding Transportation Near Philadelphia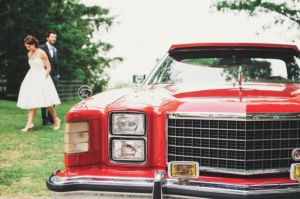 Booking wedding transportation in Philadelphia is a thorn in the sides of many couples trying to plan their wedding. It's not something that usually makes the top of the to-do list. You plan the wedding, you plan the photos, you plan the reception, but then just when you think you're all done, it becomes, "uh, how is everyone supposed to get to each place?" Getting everyone from place to place doesn't have to be too stressful. It just takes a little preparation.
Here are a few guidelines to help you through the wedding transportation decision-making process.
1. Who Needs to be Transported
The bridal party, the groomsmen, and of course you and your betrothed will all need to get from point A to point B. If hair and makeup are scheduled for earlier that day or first-look photos are scheduled, then the timing for that will need consideration. Consult your photographer at this stage of the game to decide which photos will be done and when. You'll also need to decide whether you're planning on providing wedding transportation for out-of-town guests and/or return transportation for after the party's over.
2. Photo Opportunities
The area is bursting with photo opportunities, so if photo details aren't yet something you've worked out fully, you may find it difficult to narrow down the options! Some people like to get the photos done before the wedding rather than waiting for that tight time between the ceremony and reception. There's less of a feeling of being rushed and erases that old-fashioned notion that it's bad luck to see each other before the ceremony. Working closely with your photographer is essential to coordinating wedding transportation, because where, when, and for how long you're taking pictures has a direct impact on what vehicle(s) to book, when to book them, and for how long. Many people opt to have the pictures taken at the site of the wedding or reception, which certainly makes transportation easier to orchestrate. However, maybe you want your photos to take place in parks or on streets, or other landmarks that have special meaning for you and your partner. This scenario introduces at least one, if not several, different destinations that will add time to your day, as well as time to your transportation bill.
3. Types of Transportation
The obvious choice, and certainly one of the most luxurious is a limo service. It's traditional but not stuffy, and it is a great way to travel in style for the duration of the day's and evening's events.
Limousines:
Limos come in different sizes and can vary in price. If you're looking for something a little more personal, sports cars or vintage cars can add a personal flair to the occasion.
Carriages:
Depending on the season and region, horse-drawn carriages are often a romantic option, especially during the winter months.
Non-Traditional Four-Wheelers:
Country-themed wedding plans might call for snowmobiles or four-wheelers, or even decked-out pick-up trucks.
Almost any vehicle can turn into wedding transportation with a little thought! Just remember to consider what other events might be going on around the time of your wedding. If it's prom season, for example, or a holiday such as New Year's Eve, be sure you're booking wedding transportation in advance to ensure your place in line.
If you're looking to give rides to out-of-towners also, but aren't sure you can afford to extend the use of your limo or another specialized vehicle, try asking friends and family if they wouldn't mind carpooling or being designated drivers. It can be difficult to ask this of someone because you want everyone to have a good time, but remember that many of your friends and family truly appreciate the opportunity to help out. For those who step up to help, it's a thoughtful idea to offer them a small gift as a thank-you for their time. Also, as a courtesy and a safety precaution, you may want to provide a comprehensive list of all the local taxi, Uber, or Lyft services in the area, complete with phone numbers or apps. This way, people can work out their own rides without having to do much local research.
4. Vendors
Of course, there are tons of vendors to consider when booking wedding transportation in Philadelphia. If you're looking to investigate the limousine options, we at PineCrest Country Club recommend either Secrets Limousine Service (SLS) or Kevin Smith Transportation Group (KSG). SLS has an outstanding reputation, and has one at least one, and oftentimes several service awards annually for the last 10 years, including shout-outs from The Knot, David's Bridal, and WeddingWire. KSG is another wonderful in terms of quality service and guest satisfaction, but they add a philanthropic element by having made a 5-year commitment to Penn Medicin's Abramson Cancer Center back in 2017. They've essentially, therefore, donated $250,000 by promising free transportation for Breast Cancer patients in need. Whichever company speaks to you, rest-assured we speak highly of them!
Best of luck with booking wedding transportation in Philadelphia! If you have any questions, wedding transportation-related or otherwise, call PineCrest at 215-855-4113 today!