What to Wear to an Indian Wedding
Posted on December 17, 2018
You have just received an invitation to your first Indian wedding and you are super excited. Rightly so! Indian wedding celebrations are amazing multi-day events filled with fantastic tradition, dancing, food, and fashion! Therefore, it is not surprising that the question that immediately pops into your head after cracking open the envelope seal is, "What do I wear?" Lucky for you, an Indian wedding venue near Philadelphia means that you have lots of city shopping resources to draw from when building your perfect wedding wardrobe.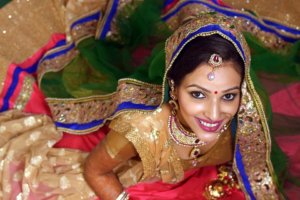 1. Bright and bold
Traditionally, white and black are not appropriate colors to wear to an Indian wedding. White is reserved for funerals and black is not a color of promise. This means color is a yes! Picture yourself in rich golds, purples, greens or whatever hue you fancy. There is no risk of standing out for being too colorful at the Indian wedding venue near Philadelphia. As a guest to an Indian wedding, you will get to enjoy taking a risk where you might not usually take one.
2. costume changes
Indian weddings involve many events over multiple days. As a guest, you should prepare for a few different outfits for these events. It is likely there will be two wedding ceremonies – one traditional Indian ceremony and one Americanized ceremony that you will likely be more familiar. Having appropriate dress for each of these ceremonies is key. Traditional Indian garb, like a colorful saree for women and a long tunic and pants for men, will work just fine for the traditional ceremony. And, as you can imagine the Americanized ceremony calls for the standard American wedding guest dress.
3. More is More
Modesty is a must and will be all the rage as you look around the Indian wedding venue near Philadelphia. Whether traditional Indian clothing or American, make sure you are covered without baring too much skin. Shoulders, legs, and even arms are often covered. Cleavage is a no-no and clothing should be loose fitting, not skin tight. Respecting these modesty guidelines will put you in the "safe" zone of Indian wedding guest appropriateness. Plus, you will have plenty of room for
4. Comfort is Key
As a guest at an Indian wedding be prepared for a long ceremony. It is not unheard of for ceremonies to last 2-3 hours. So, whatever you wear, make sure you are comfortable!
Indian weddings are beautiful, vibrant, and full of rich tradition. You should be honored to be a part of the wonderful day. Follow these few tips and you will show up to the Indian wedding venue near Philadelphia looking like an old pro when it comes to the do's and don'ts of Indian wedding guest fashion.
PineCrest Country Club can answer your questions about guest wardrobe and Indian wedding traditions as well as frequently asked questions about event planning. Call our wedding and special events coordinator to learn more!