How to Announce Your Post-Elopement Party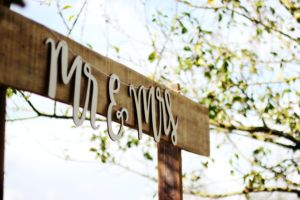 Planning a wedding involves a lot of moving parts that, despite the stress so many people experience along the way, somehow seem to all come together just in time for the big day. But today, those big celebrations have to be put on pause altogether as we continue to deal with the effects of this global pandemic. Not surprisingly, the current state of affairs has resulted in a lot more people opting for small, intimate ceremonies with just their closest loved ones or, they're just skipping the formal ceremony altogether.
No matter your reason for going this route (not everyone even wants a big ceremony for their nuptials), you still want to let your full network of friends and family know you got hitched, and you're probably going to want to celebrate with them once it's safe to do so. We can help you out there, from ideas for your post-elopement party invitation wording to planning the party itself.
Share an Update
Particularly if you had a wedding date settled on but had to cancel, your would-be guests will want to know what's going on. The message should come from the heart and keep them apprised of your plans to celebrate down the road, once it's safer. Let them know what led you to your decision and how it was the best decision for you and yours.
Plan to Celebrate Later
As far as a planned celebration, we recommend focusing on a one-year anniversary party; it gives you plenty of time to settle on the details and it should (hopefully) be enough time for the world to get back to normal. It's okay not to commit to a date just yet but, once you're ready, we'll be standing by to help you out. With plenty of event space and a team of experts that can tend to every single detail, we're happy to do the heavy lifting. When you work with us on your big celebration, you can be as hands-on or -off as you want to be. We'll work with you to pick the right space for your group size, the decorations, the menu, the drinks, and the entertainment … with us, no detail will be overlooked.
Stay Positive
And then, when you're ready to draft your post-elopement party invitation wording, just focus on the positivity that comes with celebrating your commitment rather than any unexpected events that caused you to change your original plans. The most important thing here is that you have a celebration to look forward to. How you got there is just a part of your unique story.
If you're ready to plan a celebration, contact us to start the process!