Reasons to Host an Intimate Wedding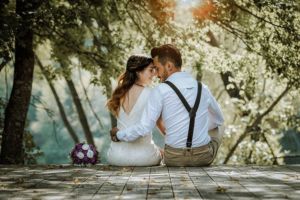 Planning a wedding during a pandemic? This is probably not part of any wedding fantasy you've ever had. However, it is our current reality, so why not make the best of it! While it might seem restrictive to have an intimate wedding if you always dreamed of something larger, keep in mind that smaller doesn't have to mean you can't include all the details you have in mind. In fact, there are a lot of advantages to having a smaller wedding, and let's face it: with the current state of the world, intimate weddings are absolutely trending. Check out the indoor and outdoor wedding options available here at PineCrest Country Club, then start planning your safe, socially distant, beautifully perfect wedding.
1. Splurge a Little Here and There
There are tons of reasons why a smaller, more intimate wedding is the right choice for you. Don't let COVID restrictions make you feel shackled to the word "small." Keep in mind that weddings between 20 and 75 are considered intimate, so depending on the size of the venue, there is a lot of wiggle room there for a safe celebration. Sure, it's possible to save money in lots of ways, simply because there are fewer people. So, if you are looking to save money, that's certainly going to be a benefit. However, the truth is that a small wedding allows a liberating amount of flexibility. Maybe you really want an 8-course sit-down meal with fine wines. This is much more affordable if the number of people you're feeding is relatively small. Splurge where you want to splurge. Maybe where you'll save on headcount, you can make up for with a live band instead of a DJ. See? This is your day. A shorter guest list can actually translate into the party you've always dreamed of. It might start out with a generic search for "intimate wedding venues near me," but the end result will be one that reflects who you are in a unique and authentic way.
2. Less Pressure, Less Stress
Another great thing about having to pare down your wedding guest list is knowing that the people who will be there really mean something to you. You might have some kind of relationship with your Uncle's business partner's wife, but chances are she's a Plus One you won't remember when you're showing wedding photos to your kids in 10 years. Weddings are personal. They're vulnerable. They're, well, intimate. What better way to celebrate this special day than with a group of people you actually know really well who love you? This set-up will also allow you to spend actual one-on-one time with your guests, which is a luxury not many brides cannot relate to.
A socially distant wedding can open up tons of possibilities for a wedding day more beautiful and more perfect than you even imagined. Not only will you and your guests feel safe and comfortable, but you'll be able to create a memorable and personal gathering that suits you. If you're still looking for the perfect venue for your intimate wedding, contact PineCrest today to schedule a tour!