3 Fun Baby Shower Games That Everyone Will Love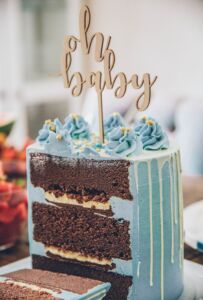 Is your sister or best friend expecting a new addition to their family? 
Then odds are you're involved in planning the perfect baby shower for her! 
While there are a lot of logistical things to consider (creating and confirming the guest list, choosing a date, setting up a cover story to surprise the mom-to-be), there are lots of other party planning essentials you need to take care of. One of them is figuring out which games to play! 
If you're stumped for new ideas or don't even know where to start, keep reading. 
Our baby shower experts have picked three of the best games to play at your party! 
Baby Shower Game Idea #1: Guess Who's The Baby
This is a great game to get the fun started. 
Here's how it's played: 
Ask each guest to bring their favorite baby picture. When the guests arrive, ask for their photo. When no one is looking, pin their pictures to a board and label each image with a corresponding number. 
When game time begins, give each guest a paper with all of the guests' names on it. Ask the guests to write the number of the baby picture they believe matches the specific person. 
The top three participants who correctly guess which baby picture matches the guests win prizes. 
This is a fun way to set the stage for the further shenanigans that are in store! 
Baby Shower Game Idea #2: The Baby Food Taste Test 
Ok, here's where the games start to get extra fun and creative. 
Purchase several jars of baby food, remove their labels and line them up with a numbered placard in front of each one. 
At each jar, place a bowl of tiny spoons. Invite each guest up to grab a spoon and sample each jar of baby food. After they taste each selection, they can write down their guess on a numbered sheet. Once again, the top three players to correctly guess each jar of food wins a prize. 
While this game is a classic, you can put an extra special spin on it by purchasing some unusual baby food selections. Sure, you can include expected meals like peas and carrots. But, you can also throw them off course by mixing in jars of bison, curried mango, and other unexpected additions. 
Baby Shower Game Idea #3: The Diaper Changing Challenge 
Wrap up game time with one of the most popular, fun and hilarious events: The Diaper Changing Challenge! 
Supply each guest with a baby doll with a wet diaper, some wipes and a disposable diaper. When everyone is all set, start a stop watch and see who can change the diaper in less than two minutes. 
The players who are left standing move onto the next round. This time, they have to change the diaper in under a minute. 
If any players remain after the last round, they then move onto the lightning round. Now, they have to change the diaper in under a minute – white blindfolded! 
Whoever survives the final challenge wins a prize – and bragging rights!
This is a fun way to prepare first time moms for the diaper duty they'll be facing in a few weeks. It's also a fun way to test veteran parents to see if they still have their diaper-changing skills. Most of all, it's a great way to get the whole crowd laughing, cheering and having fun! 
Finding The Perfect Place To Host A Baby Shower 
Now that you have your baby shower games covered, it's time to think about the best place to host this special event. 
PineCrest Country Club's rental spaces are not only a perfect place to host a wedding reception, anniversary party, bar/bat mitzvah or corporate event – they're also ideal for accommodating baby showers of all sizes. 
From spacious indoor rooms to beautiful outdoor areas, our rental spaces provide the perfect backdrop for you, your guests and the guest of honor. 
Best of all, our expert staff can help you plan your meal and accommodations so your baby shower is a rousing success! 
If you're interested in hosting your upcoming baby shower or other special event at PineCrest Country Club, contact us today to discuss availability and rates.