Tips For Selecting The Perfect Playlist For Your Cocktail Party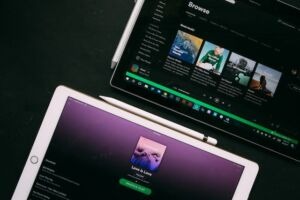 If you're planning a cocktail party in the near future, you'll want to make sure that everything is perfect – from the invitations and decorations to the attire and the atmosphere to the food and drinks.
Yet, one of the most important elements of a successful cocktail party is one of the most easily overlooked: the music! 
Music sets the tone for the evening and can make or break the enjoyment of the event. 
To help you choose the perfect playlist for your cocktail party, our event specialists have put together some tips and tricks to make your selection process easier.
Consider Your Surroundings 
When you're choosing the music for your special evening, the location of your cocktail party should play a part in your final decision. 
If you are having an elegant cocktail party in a ballroom, you may want to select genres like jazz or swing music to get your guests on the dance floor. 
If you are hosting a more casual cocktail party in an outdoor setting, you may want to choose tunes that are more subtle so they won't overwhelm the natural ambiance of your surroundings. 
Cater To Your Guests Preferences 
When selecting the music for your cocktail party, it's important to keep the enjoyment of all your guests in mind. 
Think about the age range of your guests, as well as their music preferences. A good mix of top 40 tunes from the past 50 years is a great way to appeal to the musical tastes of both younger and older attendees. 
That way your playlist showcases a good mix of music that's contemporary and classic. 
Rely On Pre-Made Playlists
If music really isn't your wheelhouse, it may be tough for you to make the right decision. 
That's ok! There's a very simple solution that you can rely on for help: pre-made playlists!
Streaming platforms like Spotify, Amazon Music or Apple Music are all fantastic resources for finding the perfect cocktail party playlist. 
Simply search the various pre-made playlists to find one that's the most appropriate for your event. Or, you can pick some of the best songs from various pre-made playlists to create your own personalized playlist. 
If you still need a little extra help, you can also use these streaming services to collaborate with friends and family to create the perfect playlist.
Give Your Playlist A Test Run
Before your event, test your playlist to ensure that it's appropriate for all your guests. If something doesn't fit the mood you're going for, delete it from the list and make more room for other tunes. 
Then, when you arrive at the rental venue, ask the event specialists to test your playlist on their sound system. This allows you to ensure that the playlist is working properly and you can ask the staff to set the volume at your preferred level. 
Enjoy Your Event's Soundtrack At A Superlative Setting 
Choosing the perfect playlist for your cocktail party is essential for setting the right mood for your event. 
To help you find the perfect soundtrack for your evening, be sure to consider the venue setting, the musical preferences of your guests, and relying on pre-made playlists for inspiration. And before the fun begins, test your playlist on the venue's sound system to ensure it is an appropriate volume and sounds great! 
If you are searching for a local venue to host your cocktail party, PineCrest Country Club is the perfect choice. Our indoor and outdoor event spaces are equipped with state-of-the-art sound systems and can accommodate parties of all sizes. 
Contact us today to schedule a tour of our event rental spaces so you can start planning your perfect cocktail party!