3 Ideas for an Amazing College Graduation Celebration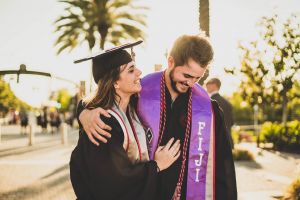 It's hard to believe, but graduation season is upon us! This season in particular harbors a flurry of emotions about a lot of different things, but there is one thing we can all agree on: Our recent graduates deserve a heck of a lot of credit. This is undeniably a difficult time to conclude an academic career and start something totally new. It's up to a graduate's support system to help them see that their gumption has gotten them this far, and it can propel them forward still. Here are three stellar college graduation celebration ideas to kick off this new life phase right.
1. Get the whole gang involved
What's a party with entertainment, guests, and… social media? Put together a playlist (or have the graduate's close friends put one together) featuring your grad's favorite songs. This is a great way to include someone who lives far away, for example. Your graduate can still feel like that person was part of the celebration in a meaningful way. It doesn't have to be limited to music, either. The playlist can include comedy bits, audio from videos the grad made throughout adolescence, as well as favorite songs of course.
Don't quite feel ready to mingle with a ton of people? Ask people to commit to shifts. Send out three separate sets of invitations, each with a different time frame on it. That way, guests are forced to stagger their visit. This helps you keep the gathering numbers relatively low while not having to restrict the guest list.
2. Hashtags
Post a few party hashtags (such as #DianaTheGrad or #JacobUCLA) around the venue so that people can post photos and videos during and after the party. Another great idea is to set up a live stream so that friends and family afar can join in on the graduation celebration.
3. theme it up
If your grad has any special interests that will carry them into the next phase of life, work that into a party theme! Did they spend a semester abroad and hope to do more traveling? Did they get a job or internship in the field they're hoping to continue working in? Use the decorations and food as ways to incorporate those plans. Even if the graduate simply has plans to move to another part of the country, consider working that region in. For example, coastal, southern, and southwestern regions all associated with some recognizable flavors, foliage, and weather.
If your graduate is like many young people, however, they still may be unsure what direction they want to go next. Traditional graduation themes with decorations and desserts that look like caps/gowns, diplomas, and school colors are all perfect college graduation celebration ideas also.
4. activities
Games are such a good way to get people engaged at a party, but sometimes all you need are a few activities that people can do on their own time while they mingle. An advice jar can be a fun way to share wisdom with the recent grad. All you have to do is display a jar with some pens and some paper and invite guests to write a little note with some wise words. This has the potential to get funny and quite moving. It can also serve as a guestbook that your grad can hold onto for years to come.
Memory games can take many forms, but a great way to work one into your college graduation celebration ideas is to ask guests to write down a memory they share with the graduate. At a certain time in the celebration, someone can collect them and read them aloud. It then becomes the guest of honor's turn to dig into the ole memory by having to guess who wrote it down! It can stir up quite a few laughs and works well with a live stream format also. Simply have someone manning the video and reading memories as they're typed in.
These are just a few college graduation celebration ideas to help you visualize what your graduate's party might look like. There's a ton of planning that's left to do, so if you're also checking out venues, consider one of PineCrest Country Club's indoor or outdoor rooms. The experts can help with things like decorations, food, and so much more, and can accommodate parties of varying sizes. Our college graduates have accomplished something huge, and they deserve to fully realize that it's not just the diploma they earned at the end of something that's worth celebrating. It's also about the next steps and even the missteps they'll take in the future. If you're thinking about a graduation party, think about PineCrest Country Club. Call today for details!