Graduation Party Ideas For 2023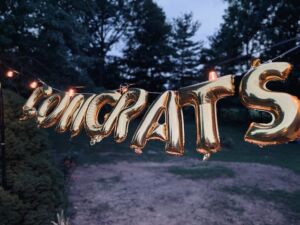 Graduation season is rapidly approaching – and PineCrest Country Club is the perfect place to host a graduation party for high school or college grads! 
With multiple indoor and outdoor rental spaces to choose from, we offer a beautiful backdrop to celebrate this milestone with your family and friends. 
Below, you'll find some graduation party ideas to help you plan a successful party that your guest – and especially your graduate – will remember for the rest of their lives! 
Get The Word Out 
The first step in planning a memorable graduation party is to let your family and friends know when it's happening. 
When creating your graduation party invitations, be sure to include all of the important details, such as the date, time, and location of the party.
At PineCrest Country Club, we can work with you to select other graduation party-themed stationery items like menu cards and place cards that complement your original invitations.
Choosing The Right Graduation Party Menu
One of the things your guests will remember most about your graduation party is the food. 
When planning your graduation party, remember that the menu should reflect the preferences of the guest of honor while still appealing to the rest of your guests. Consider a mix of classic and contemporary dishes, along with some vegetarian and gluten-free options, too.
At PineCrest, our event supervisors and staff can help you create a menu that's tailored to your exact party needs and suits your budget. Some popular graduation party food ideas include sliders, tacos, pasta stations, and a dessert bar filled with cupcakes, cookies and other tasty treats. 
Transform Your Space With Dazzling Decorations
Decorations are a fun way to set the mood for your graduation party. To give your party decor a more personalized touch, you can incorporate the school's colors into the mix via cocktail napkins, streamers and balloons. 
Graduation-themed decorations that use iconic symbols such as caps, gowns and diplomas are a must have. Creating a display with photos of the grad throughout the years is a great way to dress up the gift station or table assignments areas. 
When it comes to adding a personal touch to your rental space, our staff is ready to assist you with your graduation party decorations needs and even offer their recommendations if you're stumped for ideas. They're even written this helpful guide to creating your own custom graduation party centerpieces, too!
Select Entertainment That's Appropriate For Everyone 
Another important aspect of any graduation party is the entertainment. When planning a graduation party, consider including some activities that will appeal to all ages.
Rent a photo booth with fun props so guests can go home with instant keepsakes. If you;re celebrating at one of our outdoor spaces you can set up lawn games like cornhole or, if you're indoors, invite guests to try their luck with a giant Jenga set.
If your grad wants to dance with their friends, but you're worried the music may be too loud for other guests, you can opt for a silent disco which allows certain guests to listen to music via wireless headphones without bothering the other guests. 
At PineCrest Country Club, we can help you choose the perfect entertainment for your party, whether that's a live band, a DJ, game rentals or something else entirely.
Express Your Gratitude 
At the end of the event, you'll want to thank your guests for their time and generosity. Graduation party favors a great way to not only thank your guests for attending your event, but they also help them commemorate the occasion, too. 
Some popular graduation party favors include custom photo frames, personalized water bottles, or even customized seed packets that let your guest plant wildflowers they can enjoy in their own home gardens. 
If you're looking for unique ideas, our event planners can help you choose the perfect graduation party favors for your guests. 
Host Your Graduation Party With Us!  
Planning a successful graduation party requires careful attention to detail and a little bit of creativity. By choosing the right invitations, menu, decorations, entertainment, and party favors,, you can create a memorable event that your grad and guests will cherish for years to come.
If you're looking for a beautiful venue to host your graduation party, PineCrest Country Club has multiple event rental spaces to choose from. Our experienced event planners can help you create a tailor-made event that fits your vision and budget. 
Contact us today to learn more about our event rental spaces and party package options!