A Guide to In-Season Spring Wedding Flowers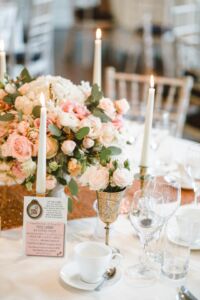 There are so many reasons couples choose spring for their wedding. The weather is warmer, daylight lasts longer, and the flowers are in bloom!
Along with all of these positives, spring weddings do pose a particular challenge for many couples: Which flowers do we choose? 
When planning a spring wedding, choosing seasonal flowers is always a great solution! 
Since there are so many types of flowers to choose from, we've put together a list of some of the most popular in-season spring wedding flowers to help you find the perfect picks! 
Spring Wedding Flowers Recommendation #1: Tulips
The tulip is a classic choice for a spring wedding. 
Why?
They offer quite a bit of variety. These elegant flowers bloom in a wide-range of colors, including pink, purple, red, and, of course, white. 
Perfect for both bridal bouquets and reception table centerpieces, tulips also pair well with many other in-season flowers.  
Spring Wedding Flowers Recommendation #2: Daffodils
Want to bring an energetic and cheerful vibe to your spring wedding? If so, daffodils are the perfect choice for you! 
Their bright yellow color symbolizes the return of springtime sunshine and the start of new beginnings – the perfect images and messages to associate with a wedding! 
In addition to looking lovely in bouquets and centerpieces, daffodils can also be used to add a pop of color to your processional aisle. 
Spring Wedding Flowers Recommendation #3: Hyacinths
If a pleasing fragrance is equally important to you as color, then hyacinths are an ideal choice! 
This pleasantly scented flower comes in a variety of popular colors, including delicate pinks, bold blues, vibrant purples that help create a romantic atmosphere for your wedding. 
Additionally, hyacinths pair nicely with tulips. 
Spring Wedding Flowers Recommendation #4: Lilacs
Another fragrant flower, lilacs are a great choice if you prefer a less vibrant purple flower than hyacinths. Delicate and elegant they create a lovely focal point for bouquets and centerpieces. 
However, lilacs typically bloom in late April or early May, so that may be more readily available for late May and early June weddings. 
Spring Wedding Flowers Recommendation #5:Sweet Peas
Dainty, fragrant and simply stunning – that's the sweet pea to a T! 
These gorgeous flowers feature a delicate, ruffled bloom that elevates bouquets and centerpieces. Since sweet peas traditionally bloom from April through June making them an ideal choice for mid-spring to early-summer weddings. 
Spring Wedding Flowers Recommendation #6: Peonies 
In recent years, the popularity of peonies for spring weddings has grown. And for good reason. Their eye-catching, puffy blooms come in an array of colors, including white, pink, red and coral. 
Their sweet scent adds to the pleasant atmosphere of the ceremony and reception. However, peonies only bloom from April to May, so be sure to place an order with a florist as early as possible. 
Finding the Right Wedding Flowers – And The Perfect Venue 
Finding and choosing the right wedding flowers isn't easy if you don't know where to begin. That's why we hope our handy guide helps you find the flowers that best complement your color palette, theme and overall vibe of your spring wedding. 
Guides like the one above are just one of the many ways we help couples enjoy their perfect wedding. 
Yet, the way we most help couples is by offering a variety of indoor and outdoor rental spaces that are perfect for ceremonies and receptions of any size. Additionally, our expert staff can help you plan the perfect meal, find the right entertainment, and even offer guidance when choosing your wedding flowers. 
Contact us today to schedule a visit to PineCrest Country Club, tour of available spaces and meet our expert staff!