2023 Wedding Colors Guide: Popular Palettes & Trends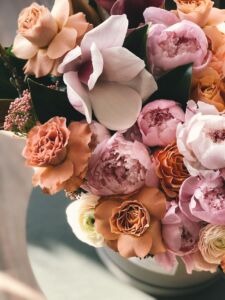 Planning a wedding is all about the details. 
From choosing a date and finalizing the guest list to locating the perfect venue and deciding on what to serve those guests, there are a lot of decisions to be made. 
One of the most important decisions is choosing your wedding colors. 
If you're planning a wedding this year and would like to know what the most popular wedding colors for 2023, we have you covered.
Eye-Catching Wedding Colors For 2023 
In 2022, emerald green gained became the hottest color trend for interior design. 
Now in 2023, this color palette continues to evolve as one of the most fashionable colors for weddings. 
This year emerald green is destined to be a top favorite for gowns, bridesmaid dresses, floral arrangements, invitations and more. 
In addition to its gorgeous hue, emerald green also pairs with other popular and classic wedding color choices such as rose, light pink and especially silver. 
Another color that continues to be a favorite for brides everywhere is lavender. Although most often seen at spring weddings, this year sees this elegant palette being a favorite in summer and early fall as well. 
Create a stunning look for your outdoor ceremony by pairing lavender with light airy colors like robin's egg blue or mint for spring and summer or chocolate or pale gray for fall weddings. 
One of the biggest surprises for 2023 is the appearance of orange. 
Many brides will be making rust the centerpiece of their palette, while others will be adding bits of bold, bright orange for a pop of color. 
Earthy Wedding Colors For 2023
Earthy tones remain popular choices for the new year. 
Terracotta and sage continue to be the favorite foundation for bridal party attire. 
However, this year sees the earthy tones palette expand with the addition of sage green, taupe, cream and olive. 
One of the many reasons earthy tones continue as a popular wedding color choice is their versatility. 
Not only do these shades complement each other, they also pair well with classic colors like ivory. 
Surprising Wedding Colors For 2023 
Perhaps the biggest surprise of the year is the emergence of blue as a new wedding color favorite! 
As it captures the essence of the sky and the ocean, dusty blue is the perfect color for beach, summer and destination weddings.  
This years, brides are pairing this subtly shade with tans (to create that perfect beach vibe) or dark, rich shades of blue 
Speaking of darker shades of blue, navy takes center stage in 2023 after several years of being on the periphery of popular wedding colors. 
No longer being strictly used as a pop of color, navy blue will be the focal point of many wedding color palettes this year. And for good reason. This regal and classic color pairs wonderfully with pink, yellow, burgundy or gold making it appropriate for any of the four seasons. 
After You Choose Your Wedding Color, It's Time To Choose Your Venue
As always, these are just a mere sampling of this year's most popular wedding colors. There are many more in store for you and your wedding party. 
If you're planning a wedding for this year or the next, we hope that you'll consider Pinecrest Country Club for your wedding ceremony or reception. 
Our beautiful grounds and outdoor spaces are ideal for spring, summer and fall weddings, while our indoor spaces are perfect for any time of year. 
We can accommodate any size wedding party and in-house catering team can customize your event menu. 
If you would like to learn more about our rental spaces or to schedule a tour, please contact us today!