Celebrate Love at PineCrest: LGBTQ+ Wedding Venue with Inclusive Spaces!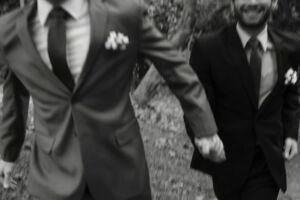 When it comes to celebrating love, PineCrest Country Club is proud to be one of our community's beacons of inclusivity and acceptance. 
Nestled amidst the picturesque landscapes of suburban Philadelphia, PineCrest emerges not just as a wedding venue, but as a haven where every love story finds its deserving spotlight. 
In the following article, we'll spotlight our commitment to being an LGBTQ+ friendly wedding venue – where love knows no bounds and inclusivity takes center stage.
Embracing Diversity: Our Pledge to Inclusivity
At PineCrest, inclusivity is not merely a buzzword; it's a genuine promise woven into the very fabric of our charming event venue. 
With open arms and open hearts, PineCrest welcomes couples from all walks of life to celebrate the beauty of love in a variety of inclusive ceremonies. 
As a proudly LGBTQ+ friendly wedding and special event venue, PineCrest champions the idea that love is boundless and deserves to be celebrated without any restrictions. 
A Venue for Every Love Story: LGBTQ+ Wedding Bliss
Picture these perfect settings for a wedding: A lush garden bathed in golden sunlight, where two souls exchange vows. Or, an elegant ballroom adorned with delicate flowers that resonates with the joy of a special union. 
PineCrest offers an array of versatile, comfortable and accommodating event spaces that provide the perfect setting for inclusive ceremonies. 
Whether it's an intimate gathering or a grand celebration, PineCrest's event spaces ensure that LGBTQ+ weddings are nothing short of magical.
Navigating the Journey to "I Do"
The path to saying "I do" should be paved with joy – not stress. 
Our seasoned wedding planners at PineCrest are here to alleviate the planning process, so the happy couple can focus on the excitement of their upcoming union. Whether they need a recommendation for a wedding photographer or are looking for reception entertainment ideas, our experts are here to help couples plan the perfect wedding! 
Personalized Touches That Make a Difference
It's the little things that make a wedding day unforgettable. 
Our dedicated team at PineCrest is committed to adding those personal touches that transform any celebration into an extraordinary experience. We understand the importance of cultural nuances and LGBTQ+ perspectives, ensuring that the couple's vision is translated into reality with precision and care.
From tailored menus to collaborating with outside vendors, we ensure that every detail of the ceremony and reception reflects the couple's specific preferences. 
Celebrate Love at PineCrest
If you're ready to embark on the beautiful journey of love, PineCrest Country Club eagerly awaits to be a part of your story. 
With big hearts and open minds, PineCrest promises to craft an LGBTQ+ wedding that encapsulates the essence of your bond, celebrates the uniqueness of your journey, and stands as a shining beacon for love and inclusivity. 
Your love deserves nothing less than the very best. At PineCrest, the best is what we joyfully offer to every couple who chooses our venue. 
Contact us today to tour our various indoor and outdoor event spaces or to speak with one of our event planners.