Embracing the Spooky Season: Halloween Baby Shower Ideas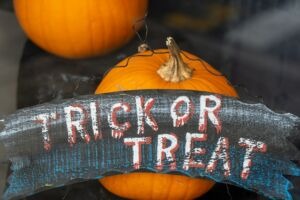 Welcoming a new bundle of joy into the world is undoubtedly a cause for celebration. 
But what if you could combine the joy of a baby shower with the spooky fun of Halloween?
Picture this: a delightful blend of adorable baby-themed decorations intertwined with eerie elements that give your event a uniquely enchanting ambiance. 
If you're intrigued by the idea, you're in for a treat – or should we say, a trick and a treat! 
In the following guide, we're going to unravel a treasure trove of Halloween baby shower ideas that will have your guest of honor and her guests ooh-ing, aah-ing and embracing the spooky season with open arms!
Halloween Baby Shower Invitations: Set the Theme for Eerie Elegance
Before the first pumpkin is carved or the first costume donned, your Halloween baby shower planning adventure begins with the invitations. 
These paper or digital invitations set the tone for your event and give your guests a tantalizing glimpse of what's to come. Create the perfect blend of spooky and cute, by adorning your invites with playful ghosts, tiny witches' hats or even miniature pumpkins swathed in baby blankets.
Pro tip: Check out our previous article on Halloween baby showers for a fantastic guide on designing captivating invitations that will intrigue your guests.
Halloween Baby Shower Games: Frightfully Fun Entertainment
No baby shower is complete without a collection of entertaining games – and a Halloween-themed celebration is no exception. 
Embrace the spirit (pun intended) of the season with games that are sure to elicit giggles and ghoulish delight from the mom-to-be and all of the guests. 
From "Bobbing for Pacifiers" in a cauldron filled with apple juice to a "Mummy Wrapping Race" where participants swaddle each other in toilet paper, these games help create unforgettable memories.
Halloween Baby Shower Decorations: Create a Hauntingly Heartwarming Atmosphere
Now, let's dive into the heart of your Halloween baby shower – the decorations. 
Transform your chosen venue into a captivating wonderland where cobwebs and cuteness coexist harmoniously. Consider a pumpkin patch filled with miniature pumpkins adorned with baby pacifiers. Or create a diaper cake in the shape of a spooky haunted house. 
The key to decorating for a Halloween-themed baby shower is to merge the adorable with the eerie to create an environment that truly embodies the spirit of the spooky season.
Intrigued by this concept? Our previous Halloween-themed baby shower guide offers valuable insights into crafting decorations that will leave your guests utterly spellbound.
Halloween Baby Shower Cakes: A Fusion of Sweet and Spooky 
The centerpiece of any party is the cake. And a Halloween baby shower cake is your opportunity to showcase the perfect fusion of sweetness and spookiness. 
Imagine a cake adorned with adorable edible baby booties alongside miniature pumpkins, black cats and spider web frosting. This delectable masterpiece not only satisfies your taste buds but also acts as a visual treat for your celebration.
For some mouthwatering inspiration, head over to our delightful article on Halloween baby showers themes for more tasty treat ideas for your party! 
Host a Halloween Baby Shower to Remember at PineCrest 
In the world of celebrations, few ideas are as enchanting and engaging as a Halloween-themed baby shower. 
By seamlessly blending the joys of impending parenthood with the playful spookiness of the season, you can create an event that the guest of honor and her guests will talk about excitedly  for years to come. 
From invitations that set the stage to games that invoke laughter to a cake or dessert that delights the senses, every element of your Halloween-themed party plays a part in this unforgettable experience. 
So, go ahead and embrace the spooky season with open arms! Your Halloween baby shower promises to be a bewitchingly good time for everyone! 
Make use of the wonderful ideas shared here, and don't hesitate to contact our team about hosting your Halloween baby shower in one of our beautiful accommodating event spaces!