The Best Bat & Bar Mitzvah Party Favors For Your Guests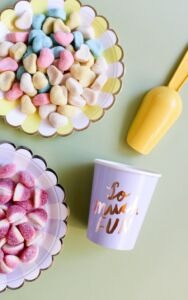 Planning your child's Bat/Bar Mitzvah is an exciting and joyous occasion! 
And our team of event planning experts wants to help you make it even more special. 
As you plan your child's celebration, one thing to consider is the party favors you'll offer your guests at the end of the event. 
A thoughtful and unique party favor leaves a lasting impression on your guests and helps them remember your child's special day. 
Here are some ideas for popular Bat/Bar Mitzvah party favors your guests will love!
Personalized Water Bottles
Currently, one of the most popular Bat/Bar Mitzvah party favor ideas is personalized water bottles. 
Not only are they a practical gift, they also help eliminate the need for guests to rely on single-use plastic bottles. 
Plus, these bottles can be customized to complement your child's celebration theme and colors and personalized with your child's name, date of the event, and a special message to each attendee. 
Custom T-shirts 
Custom t-shirts are another popular party favor for Bar and Bat Mitzvahs.
Why?
Well, first and foremost, they're a fun and practical way to commemorate the special occasion and provide a lasting memory for each and every guest. 
Second, T-shirts are lightweight and easy to wear year-round. This makes them one of the most versatile favors that guests can enjoy long after the event has ended. 
Third, t-shirts can be easily customized with your child's name and event date. Additionally, they can even be customized to include graphics and colors inspired by the theme of your child's party. 
Sweatshirts are also a popular party favor option during cooler weather. Similar to t-shirts, they  can be designed to commemorate this special occasion and provide your guests with a gift that's cozy and comfortable. 
Candy Station 
Who doesn't love a sweet treat? 
A candy station is a fun and unique party favor idea that appeals to guests of all ages!
By working with a party planner, you can create an eye-catching candy station that matches your child's celebratory theme. 
Guests can then fill up a customized bag with their favorite candy and enjoy a sweet reminder of this special celebration.
Host Your Bat or Bar Mitzvah At A Memorable Venue 
In addition to these ideas, there are countless other options to choose from, including custom hats, tote bags, and even personalized phone cases. 
Whatever party favors you choose, it's important to ensure it's fun, memorable and complements your child's special day. 
At PineCrest Country Club, we offer several sophisticated and spacious party spaces to host your child's Bat/Bar Mitzvah celebration. 
Our outdoor deck provides beautiful views of our lush landscapes that create a more relaxed atmosphere, while our indoor event spaces can be easily customized to match your child's party theme. 
Our event specialists can work with you to create the perfect menu options, from hors d'oeuvres to plated dinners, to ensure your guests enjoy an unforgettable dining experience. 
Don't wait to start planning your child's Bat/Bar Mitzvah celebration at PineCrest Country Club. 
Contact us today to schedule a tour of our event rental spaces and learn more about how we can make your child's special day truly memorable.