3 Creative Bar and Bat Mitzvah Party Themes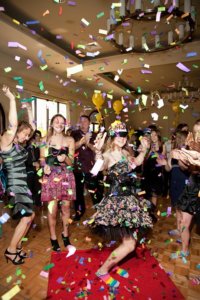 You've already tackled the hardest part: finding the perfect venue for your child's upcoming Bar/Bat Mitzvah party. Booking a location that can comfortably accommodate your entire guest list can be tricky, but once that task is accomplished, it's time to figure out the rest of the details to make sure your party is a huge success. Before you can whittle down the options and find the right entertainment and food, there's one more important decision to be made: The Party Theme.
While it's not required to pick a theme for a Bar or Bat Mitzvah party, it's fairly pretty common these days. Plus, having a theme can help make the rest of your party planning a little bit easier.
To help you figure out which theme will suit your child's personality and interests, we've picked three options that we think will help make your celebration a big hit … and keep all your guests talking for weeks to come.

Pop Culture Themes
Choosing a pop culture-related theme gives you lots of creative opportunities to celebrate in a way that fits your child's interests. Since pop culture covers everything from movies/TV (like superhero movies, Harry Potter, Star Wars, Stranger Things, etc), music, video games, fashion and personalities. Once you choose a respective area of pop culture as your focus, you can then create an entire celebration using that theme as the blueprint for your festivities.
Currently one of the most popular pop culture themes for Bar or Bat Mitzvah is Taylor Swift. If your child is a fan of Taylor Swift, there are lots of great things you can do to throw the "Swiftest" party on the planet! Adorn the venue with red decorations ("Red" is one of Taylor's most popular albums), present guests with "VIP All Access" passes for that concert event feeling, and set up a "concert stage" where the guest of honor and her friends can perform their favorite Taylor tunes!
The best thing about throwing a pop culture theme is that the party possibilities are endless!
Sports Themes
Much like the pop culture theme, a sports theme covers a lot of bases (no pun intended). To set the scene for excitement, decorate and light the venue to capture the look and feel of attending a sporting event in a stadium. When guests arrive, they can be presented with tickets that identify the "section" (table) where they will be seated during the event. The evening's MVP and friends can sit in a designated "players bench" area rather than sit with the fans (their families). Instead of serving the typical fare found at sporting events, guests can enjoy elevated variations like Kobe beef sliders and gourmet Buffalo wings. Events throughout the evening can include games like Cornhole Tournaments and a "Touchdown Dance" competition. At the end of the night, the MVP can be presented with a keepsake "game ball" (football, baseketball, soccer ball, baseball) signed by their team of friends!
Nightclub Themes
As the Bar or Bat Mitzvah signifies a child's entrance into adulthood, a more "mature" party theme might be to the guest of honor's preference. Celebrating in a chic nightclub atmosphere has become a popular choice for many families. After guests pass through the velvet ropes, they are wowed by long tables adorned with sleek glassware, custom-printed menus, and beautiful floral arrangements and floating candles. Mood lighting, a chic color palette for decor and decorations add to the atmosphere. The guest of honor and close friends savor the excitement of a "VIP" section while they spend the night dancing and enjoying non-alcoholic cocktails.
These are just a few of the many themes that can transform your event venue into an elaborate, crowd-please party! It just takes a little imagination and some help from Pinecrest's talented event planning team!
Contact us today to schedule a tour of the many rooms and event spaces at PineCrest Country Club that are perfect for your upcoming Bar or Bat Mitzvahparty.