Bat Mitzvah Party Ideas: Celebrating Traditions at PineCrest Country Club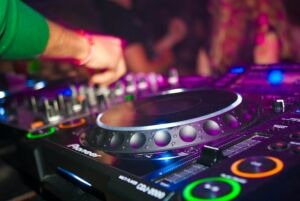 Planning a Bat Mitzvah party is an exciting and meaningful event, as it marks the transition of a young girl into adulthood within the Jewish faith. 
The most important aspects of creating a memorable celebration include choosing the perfect venue and coming up with some memorable and fun party ideas! 
PineCrest Country Club, located in the suburban Philadelphia community of Montgomery County, PA, offers an elegant and picturesque setting with multiple indoor and outdoor event spaces that make it an ideal choice for hosting a joyous Bat Mitzvah party. 
Below, we'll explore some engaging and creative Bat Mitzvah party ideas at PineCrest Country Club, incorporating themes, attire, favors and activities, to help you plan an unforgettable celebration.
Choosing the Perfect Theme
Choosing a theme for the Bat Mitzvah party is your second most crucial detail apart from finding the right venue. The right theme adds touches of uniqueness and personalization to your child's celebration. 
PineCrest Country Club's event planning team is ready to assist you in bringing your chosen theme to life. To help you get started, check out our in-depth guide to bat mitzvah party ideas that shows you how to include pop culture, sports and nightclub themes into your celebration. 
Stylish Bat Mitzvah Party Dresses
For the very special young lady, finding the perfect bat mitzvah dress is an essential part of the celebration. 
At 12 or 13 years old, many girls have specific preferences and concerns about their appearance. Finding a dress that makes the bat mitzvah girl feel confident and comfortable can positively impact her self-esteem during the ceremony and celebration.
If you're having trouble finding the right dress for your daughter, you can always ask friends and family who have already celebrated this special occasion for advice. You can also consult dress sales associates for their help and even use social media platforms such as Pinterest to spark ideas. 
Thoughtful Bat Mitzvah Party Favors
Party favors are a lovely way to thank guests for being part of this momentous occasion. 
Personalized and thoughtful party favors leave a lasting impression on your guests, so consider customizing items that tie into the chosen theme or the Bat Mitzvah girl's interests. Some gift ideas include personalized photo frames, glassware or engraved bracelets. 
By offering meaningful favors, you'll ensure that your guests leave with fond memories of the celebration.
Engaging Bat Mitzvah Party Activities
To make your daughter's party extra special, incorporate fun and engaging activities to keep guests entertained throughout the celebration. 
At PineCrest Country Club, both indoor and outdoor spaces are available to allow you and your guests to engage in a diverse range of activities such as:
Interactive Games:

Set up game stations that tie into the theme, such as trivia quizzes, virtual reality experiences, or

interactive photo booths

.

Dance Floor Fun:

Arrange for a lively dance floor and hire a talented DJ or band to keep the party going with energetic music and dance performances.

Unique Entertainment:

Surprise guests with special acts like a Taylor Swift impersonator or live performers that match the theme and add a touch of excitement to the celebration.
Get Ready for a Wonderful Bat Mitzvah Celebration
From unique themes and stylish Bat Mitzvah party dresses to thoughtful favors and engaging activities, you now have the ideas you need to make your daughter's Bat Mitzvah celebration a cherished and joyous occasion.
Celebrating a Bat Mitzvah at PineCrest Country Club provides the perfect blend of elegance and versatility. With the assistance of their experienced event planning team, you can bring your chosen theme to life and create an unforgettable celebration that reflects your child's personality and interests. 
Contact PineCrest Country Club today to schedule a tour of our event spaces so you can start planning the perfect Bat Mitzvah party that celebrates traditions in the most spectacular way!