3 Creative Bar and Bat Mitzvah Party Themes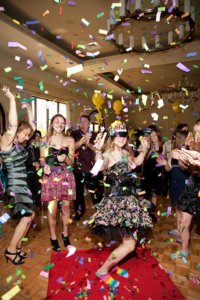 You've already tackled the hardest part: finding the perfect Lansdale, PA, party venue for your child's upcoming Bar/Bat Mitzvah. Booking a location that is in just the right place and can accommodate your entire guest list can be tricky, but now that that's done, it's time to figure out the rest of the details to make sure your party is a huge success. Before you can whittle down the options and find the right entertainment and food, there's one more important decision to be made: You've got to choose the theme.
Of course, it's not required to pick a theme for a Bar or Bat Mitzvah celebration. But it's pretty common and it can help make the rest of the planning a little bit easier. Here, three themes that we think will help make your party a big hit … and keep all your guests talking for weeks to come.
1. Hollywood Theme
Nothing screams "coming of age" like the glitz and glam we get to witness when the famous actors and actresses that grace the big screen take to the red carpet. Encourage guests to dress in over-the-top evening wear and, when they arrive, arrange for them to pose for pictures at the paparazzi's favorite: a step and repeat. Serve sparkling punch in champagne flutes and, if you want to score bonus points for going the extra mile, pre-record Academy Awards–worthy skits to project onto a big screen throughout the night. (Starring, of course, the guest of honor.) You can even hand out a series of "best" awards at the end of the night.
2. Superhero theme
It doesn't matter if you're just starting kindergarten or approaching retirement: You're never too young or too old to be a fan of superheroes in all their superhuman glory. Transform your Lansdale, PA, party venue into the home base for whichever hero you choose — Gotham City for Batman, Themyscira for Wonder Woman, etc. — with giant poster board cutouts and theme-appropriate centerpieces. You could even set up a photo booth that turns guests into the hero of the night (or even the villain, to switch things up), giving them a memento they can take home.
3. Candy casino night
Okay, so the guest of honor (and his or her closest friends) may not be anywhere close to legal gambling age. But that doesn't mean they can't spend the night fancying themselves as high rollers on the Vegas Strip. Set up a few of the easier-to-understand games — poker, roulette, craps, etc. — and pass out a stack of chips to each kid. At the end of the night, instead of cashing out their chips for dollars, they can trade them in for a selection of confectionary goodies.
As you can see, it's not always a difficult task to convert a Lansdale, PA, party venue into an elaborate, award-winning party. It just takes a little imagination! Contact us online or call 215-855-4113 to schedule a tour of the many rooms and party spaces at PineCrest Country Club.