How To Plan An Adult Birthday Party: A Checklist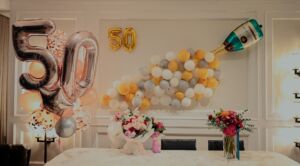 Whether you're a child or an adult, celebrating a birthday should be a joyous occasion! 
While the focus is usually on planning birthday parties for kids, these events are equally important for adults, too. 
For adults, birthday parties are a chance for them to see close and distant family members, reconnect with old friends, and meet new people. they're also a great way to mark milestones. Most importantly, they're an opportunity to make new memories that last a lifetime! 
That being said, if you're considering throwing a party for an adult family member or friend, you'll want to make sure everything goes as smoothly as possible. 
To help you get started on the right foot, our party planning experts have created this handy checklist! 
Adult Party Planning Tip #1: Set A Budget 
This first step is essential regardless of the type of party you're planning. While you want to make sure your guests and the guest of honor have a good time, you also want to make sure you don't break your bank. 
Before you do anything else, decide how much money you are comfortable spending on this event. Then you can allocate the necessary funds to make the event happen. 
By creating a budget in advance, you ensure that you have the money required to celebrate your friend or family member's birthday – and avoid overspending. 
Adult Party Planning Tip #2: Creating A Guest List 
With your budget in place, it's now time to move on to the next important step in the party planning process: figuring out the guest list. 
Based on your budget, you'll be able to determine what size party to plan. Is it a more intimate affair with the guest of honor's closest family and friends? Perhaps, it's a gigantic celebration filled with distant relatives, coworkers, neighbors and friends from back in the day? Or maybe it's something in between?
Once you know the size of your proposed party, you can start to develop a guest list. To help make sure you're not leaving anyone out, be sure to ask a friend or family member to give it a once over before you finalize the list. 
Adult Party Planning Tip #3: Pick The Best Date And Time 
After you have a guest list compiled, you can move on the next step: picking the date and time of the party.
This step can be a bit tricky for many party planners. You want to find a date that is the most convenient for everyone so you can maximize your guest list. Unfortunately, it's very difficult to find a date that suits everybody on your list. Schedule conflicts and prior commitments are unavoidable in some cases. 
To help reduce the amount of scheduling conflicts, try your best to avoid picking a day near major holidays. Or, if you are aware of an upcoming event (wedding, reunion, etc) that most of your guests will be attending, be sure to put some distance between your party and that particular event. 
Ultimately, you have to pick a date and time that works best for you, your budget and your guest of honor. 
Adult Party Planning Tip #4: Find The Perfect Venue 
Ok. You've checked the first three boxes on your party planning checklist. Now you're ready to find the ideal place to host your party. 
While many folks opt for hosting parties at their home, they often regret it afterwards. 
Why?
While it seems convenient and cost effective to host at home, it does have its share of disadvantages such as cramped spaces, potential damage to your households and expensive clean-up bills from any spills or splashes. Plus, you have to worry about violating neighborhood noise ordinances. 
Instead of hosting at homes, it's always a good idea to opt for hosting your part at a venue with rental spaces. Look for venues that are affordable, conveniently close to your home and designed to comfortably accommodate you and your guests. 
By hosting your party at a rental venue you won't have to worry about cleaning up afterwards or wonder if you have enough places for your guests to eat, sit and dance. Plus, you can be as loud as you want to be! 
Adult Party Planning Tip #5: Send Out Your Invitations 
Congratulations! You've reached the last big step in your preliminary planning process! 
Once you have your guest list confirmed, your date selected and your venue booked, it's time to mail your invitations. Or, to make things easier for you and your guests, you can use an app to create digital invitations and track RSVPs in real time! 
Get Ready To Have A Good Time! 
We hope this checklist helps you get the ball rolling for your upcoming adult birthday party. Most of all, we hope it helps you have a good time when party day arrives!  
While this list may prove helpful, we realize that you can always use some extra help when it comes to planning your event. 
In addition to offering multiple indoor and outdoor rental spaces for birthday parties and special occasions, PineCrest Country Club also offers the assistance of our expert staff. Our team can offer their guidance when it comes to planning your meal, arranging the seating to maximize your rental space, recommending entertainment options, and so much more. 
To learn more about our rental packages, take a look at our available spaces, or to speak with one of our party planning experts, please contact us today!