How to Throw the Perfect Fall Bridal Shower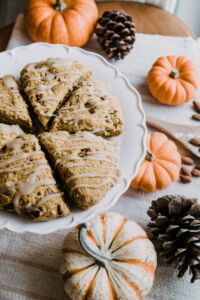 For years, spring and summer were the hot months for weddings. However, in recent years, more couples are opting for fall weddings.
Why?
For starters, not as many people take vacations in the fall. That means the numbers of guests may be more significant in the fall as compared to the summer. 
Couples also don't have to compete with other weddings scheduled for the spring and summer. So fall weddings help reduce the number of conflicting weddings. 
Best of all, unlike the summer months, fall weather, especially in Pennsylvania, isn't hot and humid. 
If a sibling, beloved family member or best friend has a fall wedding planned then you'll need think about hosting a bridal shower. 
Below, we'll share a few fall bridal shower ideas that are fun and fantastic! 
Fall Bridal Shower Invitation Ideas
Once you have a date picked for your fall bridal shower, the next step is to send those invitations ASAP!
Rather than just settle for simple standard-issue invitations with no personality or pizzazz, you'll want to send invitations that grab the attention of the recipients and stds the tone for the party! 
If you love to craft (and have the time), you can create your own unique invitations utilizing pressed leaves and flowers.
Other ways to incorporate the fall theme into your invitations is to choose ones that feature subtle elements of the season. Images of pumpkins, horns of plenty, apples and acorns. 
For a more rustic look, opt for invitations with a barn wood-inspired background that compliments traditional calligraphy-style messaging. 
No matter which fall-inspired invitation you choose, be sure to include all of the pertinent details:
Who the bridal shower is for.

Date and time.

Location of the bridal shower.

Contact information for RSVPs and Regrets. 

A link to the online bridal registry 
Also, make sure you mail your invitations between 4-6 weeks prior to the bridal shower. 
Fall Bridal Shower Decoration Ideas
Capturing the spirit of the season has a lot to do with the types of decorations you employ. For fall bridal showers, you'll wish to capture the elements of the season by incorporating a color palette that either stresses traditional shades of orange, yellow and brown or more subtle shades such as dusty rose, sage, caramel and marigold. 
For a seasonally appropriate gift station, choose an old-fashioned apple cart or a hay-strewn tractor wagon. 
Make affordable and eye-catching centerpieces with mason jars and fall flowers. Seat the bride-to-be in a rocking chair placed against a seasonally-inspired backdrop that reads "Fall In Love". 
These are just a few of the decor ideas to display at your fall bridal shower. 
Fall Bridal Shower Food And Drink Ideas
There are so many sweet and savory flavors found in the fall. And your job is to figure out which ones you want to incorporate into your bridal shower menu. 
For the main course, opt for something a bit lighter but still seasonally appropriate. Choose a fall salad with roasted fruits and vegetables. 
Fall weather gets a bit more brisk especially as it approaches the start of winter. Serve the guests lots of warm comforting food and beverages. Hot apple pie with a side of apple cider flavored with cinnamon sticks is a lovely dessert combination.  
Host Your Fall Bridal Shower At PineCrest 
We hope these fall bridal shower ideas inspire you to create the perfect event for your best friend or family member. 
And remember, if you don't want to host the event at your home, you can always choose PineCrest Country Club.  
With multiple rental spaces that easily accommodate bridal showe parties of any size, our venue makes things more comfortable for you and your guests.  
Plus, our in-house event specialists can help you customize the perfect menu! 
For more details about our rental spaces, please contact our event experts today!