Elements Of An Unforgettable Bridal Shower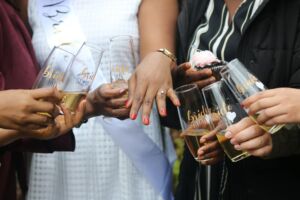 Planning a bridal shower for a sister or bestie? 
No doubt you'll want to make sure the event is one the bride will look back on fondly!
While that seems like a challenge, it's nothing to stress yourself out over. 
You just need to add the elements below to guarantee a good time for all and an unforgettable event for the bride! 
Get The Guest List Right 
Before you dive into the fun stuff, you have to take care of a very important element of the bridal shower planning process: the guest list.
Besides helping you stay within your budget, creating a well-rounded guest list adds to the overall experience. 
Craft the list by including all of the key players (immediate family and bridal party members). Nex, using input from close family members and best friends, determine whose presence will mean the most to the guest of honor. 
By seeking guidance from others, you'll have a guest list that doesn't overlook favorite family members or old friends you're not familiar with. Plus, you'll ensure that you don't invite someone who may put a damper on the fun. 
Make Sure The Shower's Theme Matches The Bride's Tastes and Personality
The expression "It's all about the bride" doesn't just refer to the wedding day. 
Everything that involves her big day should reflect the bride's personality, tastes and preferences. 
From the theme and games played to decorations and party favors to the food and drinks served, every component should appeal to the bride. 
If she's the low-key type who enjoys more intimate and quiet get-togethers, then keep the shower simple. Accent the venue with subtle decorations, serve more traditional fare, and opt for activities and games that involve sharing cherished memories. 
Is the bride an outgoing type with a competitive streak? This info can help you craft a sports theme and pair it with a menu that complements it. You'll also want to make sure you have lots of fun games and activities planned throughout the event. . 
No matter what you do, just make sure it reflects the bride's interests. That way you'll ensure the event is unforgettable in all the best ways! 
Find The Perfect Venue For Your Bridal Shower 
You have the guest list in hand. 
The overall theme plotted and planned. 
Now it's time to select the final element for an unforgettable bridal shower: the venue! 
The perfect venue for your upcoming bridal shower is a one you can easily transform into the ideal setting for this special occasion.
Pinecrests rental spaces are just waiting to be that perfect setting!
Whether you prefer an open air space for a spring day or an indoor space for a nighttime event, we have multiple indoor and outdoor rental spaces that match your preferences and easily accommodate parties of any size. 
Plus, our event planning staff is here to assist you at any time to assure that your bridal shower is a success! 
Contact us today to learn more about hosting your unforgettable bridal shower at PineCrest!