3 Corporate Event Ideas To Level Up Guest Engagement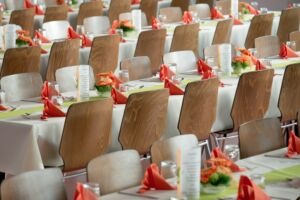 If your company has been hosting corporate events for a number of years, you may be running ideas that will wow your crowd. 
Perhaps you're throwing your first event and you want it to be something unique and memorable. 
In either case, you've come to the right place. 
Our event experts recommend the following ideas to level up your event experience!
Board Game Tournament
Hosting a "Casino Night" that recreates the Vegas experience has been a go-to corporate event. 
Yet, not every guest is into games of chance. Also, renting all of the gaming tables, finding dealers, and decorating an event space to recreate a casino floor can be costly. Most importantly, hosting an evening of gambling may not gel with some companies' images. 
However, there is a new event idea that combines gaming, competitive fun and is more aligned with most businesses' core beliefs: a board game tournament! 
Instead of spending excessive amounts of money on renting casino accessories, you can collect a variety of the most popular board games and encourage attendees to sign up to play their favorites. 
On the night of the event, various tables will be set up for each respective game. The tournaments can either be organized by individual players or by teams (depending on the number of participants). 
Decorate the event space with board game-themed decorations and create a menu that features unique appetizers, entrees, desserts and drinks that correspond to the event's theme. 
The winner or winners of each respective game/tournament receives a prize and/or a trophy. 
If the event is a popular attraction, you can easily make it an annual event for your staff or client base! 
Kentucky Derby Day Party
Attending the Kentucky Derby looks like a great deal of fun. The hats, outfits and the delicious mint juleps! And of course, the race itself. 
While hosting your corporate event at the Derby would be amazing, arranging for your team and clients for the Derby would be incredibly expensive (not to mention a logistics nightmare). 
Instead, you can do something that's just as fun: Recreate the look and feel of Derby Day for your next event! 
Start by distributing formal invitations. Require all guests to wear their fanciest dresses, suits and eye-catching hats. Serve up an array of Derby-themed food and drinks. Play Derby-themed games with prizes. Then the whole event culminates with a screening of the big race. 
Just don't forget the mint juleps! 
Sip And Chip
Hosting a corporate event at a golf club is a great way to connect with your clients, reward your staff – and combine two great ideas to appease all guests. 
While the golfers are out enjoying a day on the greens, those who prefer to socialize without swinging clubs can enjoy a wine tasting in a scenic outdoor or beautifully decorated indoor space. 
Serve light fare, hire a local pianist or jazz combo to provide the perfect soundtrack for the tasting, and give your guests an afternoon they'll truly enjoy.
Where Can You Host Your Next Corporate Event?
Now that you have some new corporate event ideas to consider, it's time to find the perfect place to host your party.
PineCrest Country Club is ready to help you host these and other events for your company. 
We have multiple indoor and outdoor rental spaces that are sized right for needs and our event staff is happy to assist you with the logistics of your event. 
Plus, if you're thinking of hosting a corporate golf tournament or making a round of golf a component of your event, our course is one of the best in the Philadelphia area. 
Contact us today to schedule a tour of our event spaces or to speak with one of our specialists.