Spring Weddings: Why This Season is Perfect for Tying the Knot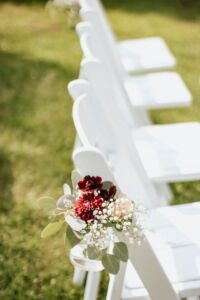 Spring is synonymous with new beginnings. So what better way to start a new chapter than by tying the knot in the springtime!
If you're looking for the perfect venue to host your spring wedding, PineCrest Country Club is the right choice for you!
With our picture-perfect surroundings, exquisite outdoor and indoor event spaces, and exceptional service, PineCrest is the ideal setting for your special day.
Here are just a few of the top reasons why spring is the right season to celebrate your wedding at PineCrest Country Club!
Wonderful Weather 
As we head out of winter, the weather goes from wild to mild!
That's one of the many reasons so many couples choose spring wedding dates and opt for outdoor ceremonies. At PineCrest, you can exchange your vows in one of our stunning outdoor spaces, surrounded by lush greenery, blooming flowers, and a serene atmosphere. 
Picture your ceremony taking place in our lovely gazebo nestled among green trees and rose bushes and offering picturesque views of our beautiful landscapes. After the ceremony you, your wedding party and invited guests can proceed to our beautiful outdoor event space with a covered roof to drink, dine and dance! 
If you prefer to host your reception indoors, our temperature-controlled banquet and ballroom settings offer plenty of space to comfortably accommodate everyone. Plus, the large windows offer breathtaking views of our surroundings. 
Blooming Flowers and Vibrant Colors
In addition to the better weather, spring also provides the perfect wedding backdrop and color palette courtesy of blooming flowers and seasonal colors. 
PineCrest boasts an array of stunning gardens and lush green landscapes that truly come alive during the spring. Our outdoor spaces adorned with vibrant flowers offer a beautiful backdrop for your wedding photos.
Additionally, spring wedding colors complement the natural elements that surround our venue. Spring wedding colors are often bright and bold, yet that are grounded in nature thanks to subtle underlying shades of pink, lavender and green. 
At PineCrest, our event supervisors will work with you to decorate your indoor or outdoor event space according to your desired color scheme to create a ceremonial and celebratory space that reflects your style and visions. 
Fresh Seasonal Menus
Spring also sees the return of many popular vegetables and fruits that can be incorporated into your dinner menu for an extra special seasonal touch!
Some of the most popular spring wedding menu ideas include light and refreshing salads, grilled vegetables, and entrées showcasing fresh seafood. For dessert, we recommend serving tarts, cakes or pies incorporating the season's freshest fruits such as strawberries and apricots. 
Unique Extra Touches
Spring weddings also provide you with opportunities to incorporate unique seasonal elements into your decor and attire. 
Showcase floral motifs on your wedding invitations, centerpieces, and bridal gowns. Feature eco-friendly elements in your decor by choosing decorations made from recycled or repurposed materials. These little touches enhance the beauty of the season and add to the charm of your celebration. 
Make Your Special Day Extra Special 
Clearly, spring weddings are full of wonderful elements that enrich your celebration. 
If you're planning a spring wedding, we hope that you'll choose PineCrest Country Club for your setting. 
Our range of outdoor and indoor event spaces can suit your specific needs, preferences and style. Whether you envision an intimate affair in one of our cozy banquet rooms or a grand reception on our covered outdoor deck, we have the perfect space to accommodate your guests and make your dream wedding a reality. 
To learn more about our available spaces or to speak with an event supervision, please contact us today!