Easy Dinner Party Decorations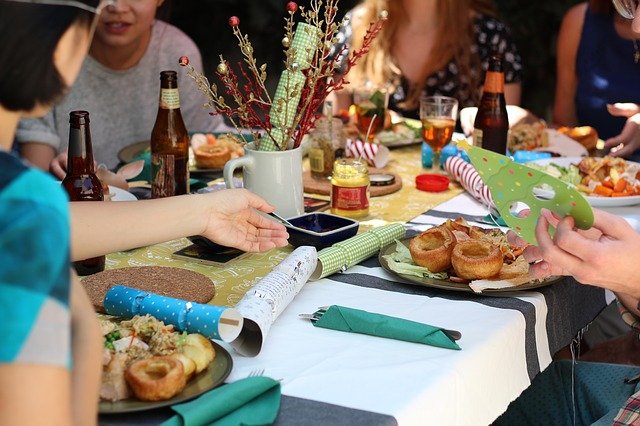 Decorations really set the mood for your dinner party. Although choosing the right ones may seem like a chore, it doesn't have to be.
First, make sure your decorations match your personality, style and taste. Aim for quality of decorations and not quantity. A handful of memorable decorations will do more for the mood than overabundance of drab decor. And if you need some fresh dinner party decoration ideas, keep reading. We have several standouts below!
1. Choose a Theme
Decorating for a party is easier if you have a theme. A theme can be anything you please. From a formal fancy dress event to a casual birthday dinner party, a theme can go a long way toward helping you choose the best decorations. You can also use a dinner party theme to add hints of decor throughout your party. From food to drinks to table settings, you can spice up the decorations with themed appetizers, cocktails and accessories like salt and pepper shakers.
2. Make the Guests Feel Special
You want your dinner guests to feel extra special. One of the best ways to ensure that each attendee feels like the guest of honor is to personalize their table placement. This can be done in a few extremely simple, yet effective ways. First, be sure to decorate the entrance to the event. This can be done with an array of colored light strings, colorful balloons or a themed welcome sign. You can also literally roll out the red carpet to make their arrival feel like they're celebrities attending an awards ceremony. When guests make their way to their table, welcome them with some subtle decor. Attach a decorative tag embellished with their name to their champagne glass. Or top their table setting with an elegant place card that includes the evening's menu on the opposite side.
3. Accessorize in Style
Another simple yet stunning way to dress up your dinner party is to turn the placement accessories into functional pieces of decor. A visually appealing way to do this is to fold the cloth dinner napkins into the shape of a lovely leaf. This easy yet effective trick adds another unexpected decorative touch to your dinner party.
4. Create a Dazzling Centerpiece
Your table centerpieces should be the decorative focal point for your dinner party. Since centerpieces are the most elaborate dinner party decorations, their impact should be maximized with neutral tablecloths. They shouldn't obstruct the view of your guests or interfere with their conversation, but they should capture their attention when they walk in the dining room.
One of the simplest, yet elegant ways to create a memorable centerpiece is to trap an array of beautiful flowers under an upside down wine glass. Then a small votive can be placed on the exposed base of the glass. This allows guests to enjoy these lovely flowers and soft glow of the candles, while being free to observe each other and the entire room.
If hosting the ultimate dinner party on your own is too challenging of a task, there's always another alternative: Let the party planning experts at Pinecrest Country Club arrange your event! Our trained staff will ensure that all of your guests receive the utmost attention. Our customizable menu can fit your theme or special event needs. And our multiple rental space options can easily accommodate both large gatherings and intimate dinner parties. To learn more about our available options, schedule a tour, or speak with a party planner, contact us today!