3 Outdoor Winter Wedding Ideas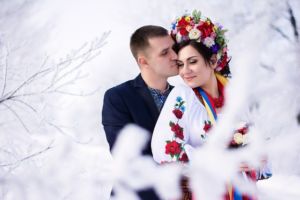 An outdoor winter wedding can be one of the most magical experiences of all. With freshly fallen snow covering the ground and warm, soft lights illuminating everything, saying "I do" to your significant other in front of friends and family makes for the perfect evening. Since we're all trying to keep a safe distance with the current pandemic, moving your winter wedding outdoors doesn't have to be uncomfortable! In addition to outdoor heating, there are ways to make sure your guests are warm and toasty on your wedding day.
1. Personalize It
Keep your guests nice and warm with personalized winter wear. Whether its gloves, scarves, or hats, pick an item, select a design, and give them something to take home that they'll use both the day of and well after to remember this special event. Make sure the color matches your theme. These gifts will make for some adorable pictures throughout the ceremony and reception as well!
2. Warm From Within
There's nothing better than a warm beverage on a chilly night. Make your signature drink one that warms from within. Depending on your theme, you can opt for a boozy hot chocolate, spiked cider, or some other delicious creation that will keep hands and hearts warm throughout the night.
3. Cushioned and Comfy
It's likely that most people can't remember the chair they sat on at the last wedding they attended unless of course, it was terrible. Don't make that mistake at yours! To make your guests even more comfy and cozy, place cushions on the chairs at the ceremony and reception. Also, provide blankets for guests to bundle up in if the temperature dictates the need. They'll love the unique atmosphere and be able to appreciate all your attention to detail without being uncomfortable!
4. Warmth to Go
Encourage guests to take a warm (non-alcoholic) drink for the road! Set up a warm beverage station with personalized to-go cups near the exit so people can enjoy the warmth all the way to their front door. They'll love the thoughtfulness!
If you're looking for outdoor winter wedding ideas or are looking to book a wedding venue in Lansdale, PA, schedule a tour at PineCrest! Speak to our events coordinator, we can't wait to make your special day magical..