3 Outdoor Wedding Ideas On A Budget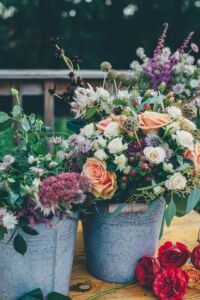 If you're looking for a beautiful outdoor wedding venue that's both affordable and accommodating to your needs and budget, PineCrest Country Club is the perfect choice. 
Conveniently located in the Philadelphia suburbs, PineCrest offers picturesque outdoor spaces for your dream wedding ceremony and reception. 
Below, we will explore three creative outdoor wedding ideas that won't break the bank and make brilliant use of PineCrest's beautiful outdoor event spaces. 
Get A Little Help From Your Friends
To help you stay within your budget, you can always tap into your talented friends and family. 
Instead of incurring the fees associated with officiants, you can also ask a qualified friend or family member to officiate your ceremony. 
Know friends who DJ events or work as professional photographers? Ask them if you could utilize their services in lieu of a wedding gift. 
You'll be surprised how many of your talented friends and family members will easily offer their services to help you adhere to your budget – and enjoy the outdoor wedding of your dreams! 
Showcase Everyday Elements In Your Outdoor Wedding Decorations 
One way to save money on outdoor wedding decorations is to incorporate natural and everyday elements such as flowers and repurposed items into the designs. 
There are plenty of DIY ideas that are easy to create and won't break the bank. For example, you could create your own flower arrangements using seasonal wildflowers from a local farmer's market. To create memorable and eye-catching centerpieces, you can repurpose items such as mason jars or wine bottles to add a rustic touch to the decor. 
Or, you could create your own photo booth using an old-school instant camera and a few fun props and costume accessories. 
PineCrest's outdoor spaces offer plenty of room for creativity, and the staff is always happy to help you implement your ideas.
Make The Most Of The Beautiful Surroundings 
PineCrest's lush gardens and greenery are a romantic setting for any outdoor wedding ceremony. 
Our charming gazebo, surrounded by shrubbery and a lovely rose bush, is the perfect outdoor setting to exchange your vows. 
While your guests are enjoying a relaxing cocktail hour before the reception, your photographer can capture the happiness of the happy couple and their wedding party using our rolling green hills, colorful flower beds and majestic trees as the backdrop. 
Best of all, our open outdoor spaces offer some of the best views of sunsets that enhance the elegance of your event. 
Why pay for an expensive destination wedding and reception, when PineCrest's outdoor wedding venue can offer scenery that's just as beautiful and enchanting?
Choose The Right Outdoor Wedding Venue 
These are just a few simple ways to save some money and keep your wedding budget from getting out of hand. 
Perhaps the best way to save money is to find an outdoor wedding venue that's willing to accommodate your unique needs and budget. 
With its stunning outdoor spaces, exceptional customer service, and affordable event rental packages, PineCrest Country Club is here to make your dream wedding a reality. 
Contact us today to tour our available outdoor spaces or speak with one of our event specialists!