3 Themes for a Spring Baby Shower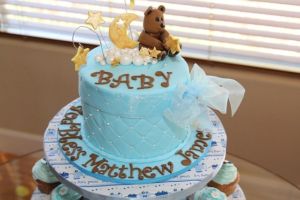 Baby showers are fun in all seasons, but springtime is an especially popular time of year to celebrate new life! The season's color palette is easy to integrate into almost any theme, and now that the weather is warming up and everything is blooming, outdoor venue options often become available. Once you've booked a baby shower venue in Lansdale, it's time to really get the baby shower planning underway. Whether your head is spinning with ideas and you need help narrowing things down, or you're drawing a complete blank, you've come to the right place. We've got a short list of easily adaptable baby shower themes to help you celebrate the arrival of the new baby.
1. April Showers Bring May Flowers
We all know this popular saying, but what you may not have considered is how perfect it is for a baby shower theme. It's a literal and metaphoric representation of what springtime is. It's a time for actual rain making way for actual flowers, and it's a time for providing the perfect environment for life and growth.
A "Rain Shower" is perfect for just about any budget. You could go simple with bunches of white balloons for rain clouds, strings of white raindrop-shaped paper or strings of blue beads from ceilings, doorways, or dangling from walls, colorful banners with cute sayings such as, "Showered with Love" or "Let Love Rain Down" or "Love Makes Things Grow." This is also a super gender-neutral theme, and can be used with just about any baby shower venue in Lansdale.
Use baby rain boots as vases in the middle of each table in different sizes, so the new baby can have rain boots for their first few years. Make a keepsake for baby's new room with an umbrella and blue fingerprint "raindrops" with attendees signatures. Rainbows also lend themselves well to this theme, adding a colorful element to decorations, cakes, and even gifts and games. Just a little brainstorming and the possibilities here truly are endless.
2. Mommy to Bee
This idea is a little more focused, but still carries tons of room for creativity. Bees are also fairly symbolic of new life, the most obvious being that they themselves are pollinators. Yellow is also a beautifully gender-neutral color, and decorating in yellow and black can really make a room pop with excitement. A bumblebee cake or honeycomb-shaped cake is likely easy for most bakeries to make well (and even for many at-home bakers, we'd imagine).
It's also fun and easy to work honey into the various food options: honey mustard-glazed main dishes or finger foods, honey-drizzled cornbread, honey-infused teas or lemonades, flavored honey sticks, the list goes on. The honeycomb pattern works well for games like Bingo, where guests record their best gift guesses into each section to create their own Bingo card. Actual flowers, seed balls, or packets of wildflower seeds make excellent eco-friendly favors, as do sample jars of local honey or honey-infused balms and lotions.
3. Garden Shower
We don't even have to elaborate for you to be able to instantly envision how a woodsy garden theme would be both cute and easy to create. Whether you're going elegant, casual, or something in between, decorating with flowers, baskets, fairies, and other sneaky woodland creatures gets those creative juices flowing. Another gender-neutral shower theme idea, hosting a garden shower means you can use the natural colors of an outdoor baby shower venue in Lansdale or bring the outdoors in with potted plant centerpieces, fairy gardens, gnomes, and edible flowers. The ever-popular dirt cake (complete with cookie crumbs, layered puddings, and gummy worms) would be a huge hit for this theme, as would more traditional cakes decorated with frosting or fondant flowers.
There isn't much limit to what goes on in a garden, also, which means this colorful theme can easily be catered to the specific tastes of the mom-to-be! Incorporate animals, bugs, plants, birds, you name it! This is also a theme that can easily be made masculine or feminine if you choose to reveal the gender of the baby. Lean more toward the flowers and pastel colors for a girl, or lean more toward primary or earthy colors, and woodland creatures for a boy.
Call 215-855-4113 to book your baby shower venue in Lansdale today and then get planning with PineCrest's special events coordinator! Springtime is here!