Cheers to the Golden Years: 60th Birthday Party Ideas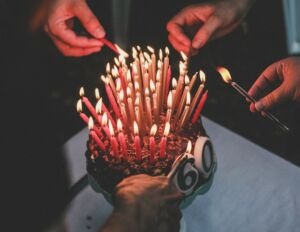 PineCrest Country Club is your premier event venue for celebrating life's milestones. 
In the following guide, we'll share a wealth of creative and inspiring ideas to help you plan the perfect 60th birthday party. 
Whether you're organizing a celebration for a family member, friend, or yourself, this milestone deserves nothing but the best. 
Let's highlight a few great 60th birthday party ideas that help create fun and unforgettable memories.
Why Celebrate a 60th Birthday?
Turning 60 is a momentous occasion. After all, it signifies the arrival of the golden years. It's a time to reflect on a lifetime of achievements, adventures, and memories. 
Whether the guest of honor is embracing their 60th with open arms or feeling a bit nostalgic, a grand celebration is in order. 
After all, 60 is the new 40!
Since a 60th birthday isn't an ordinary event, this milestone calls for some extra special birthday party ideas:
Set the Scene with Vintage Glamour
Embrace the vintage vibes with a glamorous '60s-themed party. Decorate with retro centerpieces, vinyl records, and a classic photo booth. 
Guests can dress up in elegant attire from the era and dance the night away to timeless tunes from this legendary decade.
Make a Time Capsule of Special Memories
To elevate the nostalgia factor, create a time capsule filled with meaningful mementos from the past 60 years. Encourage friends and family to contribute letters, photos, and other keepsakes to make the capsule extra special. 
Open the time capsule at the party and reminisce about cherished memories.
Capture New Memories with a Photo Booth 
Rent a photo booth with props and backdrops that match the chosen theme for this 60th birthday celebration. 
Photo booths are a fantastic way for guests to capture new memories and create fun keepsakes from the celebration.
Present a Musical Extravaganza
Hire a live band or a vinyl spinning DJ to entertain your guests and fill the dance floor with hit songs from the '60s, '70, '80s and beyond. 
Music has a magical way of bringing people together and evoking those special moments, making it a fantastic choice for a 60th birthday celebration.
Touch Hearts with a Tribute Video
Compile a heartwarming tribute video with personalized messages from friends and family. This personal touch is sure to create a lasting memory for the guest of honor and provide all attendees with a visual treat they'll be talking about for years.
Send Guests on a Culinary Journey 
Treat the party guests to a culinary adventure. 
Work with your venue's party planning experts (like our team here at PineCrest) to create a custom menu that caters to the preferences and dietary needs of your guests. 
From exquisite appetizers to delectable desserts, the food will be a highlight of the evening.
End the Night with a Champagne Toast
A 60th birthday is a time to raise a glass to the guest of honor. 
Arrange for a champagne toast and let heartfelt speeches and well-wishes flow. It's a moment that will be cherished by all.
Time to Find the Perfect Venue
Choosing the right venue for a 60th birthday party sets the stage for an unforgettable celebration. 
At PineCrest Country Club, we offer a variety of wonderful and accommodating event spaces for your 60th birthday party. Our elegant banquet rooms and outdoor terrace provide the perfect backdrop for a golden celebration.
As you explore these 60th birthday party ideas, we hope you find inspiration for your milestone celebration. 
PineCrest Country Club is here to make your vision a reality. 
Contact us today to tour our available event spaces and discuss how we can help you plan the 60th birthday party of a lifetime.