Rustic Fall Wedding Ideas: Incorporating Nature's Beauty into Your Wedding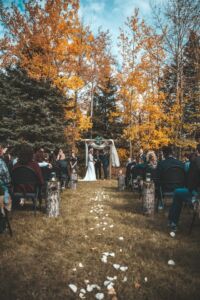 When the crisp air and vibrant hues of autumn arrive, it's the perfect time for a charming rustic wedding. 
Imagine exchanging vows surrounded by the enchanting beauty of nature courtesy of stunning fall foliage. If you're dreaming of an outdoor wedding that captures the essence of the season, PineCrest Country Club is the ideal venue to bring your rustic fall wedding ideas to life. 
Below, we'll explore some of the creative ways you can infuse the captivating elements of fall into your wedding decor to make your special day a true reflection of the season's splendor.
1. Setting the Scene with Nature's Rustic Palette
The first step in creating a memorable rustic fall wedding is setting the scene. 
Nature provides an unparalleled backdrop during this time of year, with leaves transforming into brilliant shades of red, orange, and gold. Utilize the breathtaking fall foliage as a canvas for your celebration. 
Consider having your ceremony in a picturesque outdoor setting at PineCrest Country Club – where the landscape becomes a living work of art! 
2. Autumn Leaves Create a Whimsical Aisle and Archway
Incorporating autumn leaves into your wedding decor is another great way to add a touch of whimsy and natural beauty. 
Line the aisle with fallen leaves in various colors to create a vibrant and visually appealing pathway. Adorn your archway with cascading leaves to form an enchanting frame for your vows. 
The gentle rustling of leaves in the breeze also adds a poetic ambiance to your ceremony.
3. Elevate Your Bridal Bouquet and Centerpieces with Seasonal Blooms
Enhance your rustic fall wedding with seasonal flowers that mirror the surrounding beauty. 
Opt for blooms in warm, rich tones like deep reds, oranges and yellows. Complement your bridal bouquet with dahlias, sunflowers, and chrysanthemums for a stunning arrangement that captures the essence of autumn. 
Extend the floral theme to your reception by adorning tables with centerpieces that showcase the natural bounty of the season.
4. Create Magical Evening Ambiance with Lantern-lit Pathways
As the sun sets and the stars begin to twinkle, it's time to complement this magical natural ambiance with lantern-lit pathways. 
Place lanterns along walkways and around the reception venue to guide your guests through the enchanting landscape. The soft glow of lanterns against the backdrop of autumnal hues helps make your rustic fall wedding truly unforgettable.
5. Treat Your Guests to Harvest-inspired Culinary Delights
Extend the rustic fall wedding experience to your reception menu. 
Treat your guests to a feast inspired by the season's harvest. From pumpkin-infused appetizers to warm apple cider, you can use your menu to delight your guests' taste buds with flavors that embody the essence of fall. 
PineCrest Country Club's talented team can help you create a fall-inspired menu that showcases the finest seasonal ingredients to ensure a memorable dining experience.
6. Thank Your Guests with Fall-Inspired Wedding Favors
Add a personal touch into your rustic fall wedding by offering DIY favors that reflect the season. 
Create mini jars of homemade apple butter or pumpkin spice mix as tokens of gratitude for your guests. Attach handwritten notes expressing your appreciation for their presence to add a heartfelt touch to your celebration.
7. Capture the Spirit of the Fall Season with Professional Photography
A rustic fall wedding offers plenty of breathtaking backdrops for your wedding photography, so take advantage of the stunning natural surroundings at PineCrest Country Club. 
Hiring a professional photographer who specializes in outdoor wedding ceremonies ensures that every magical moment is expertly captured so you can cherish these memories for years to come! 
Your Dream Rustic Fall Wedding Awaits at PineCrest 
Incorporating nature's beauty into your fall wedding at PineCrest Country Club opens the door to a world of creative possibilities. 
By embracing autumn leaves, seasonal flowers and other natural elements, you can curate a wedding that truly reflects the splendor of the season. From the enchanting ceremony to the cozy reception, your rustic fall wedding ideas contribute to an unforgettable experience. 
Let your imagination run wild and watch as your vision comes to life in a celebration that seamlessly blends romance and nature's magnificence. 
Your dream rustic fall wedding awaits at PineCrest Country Club. 
Contact our team today to view our available outdoor and indoor spaces for your fall wedding ceremony and reception!